At myheart.net we've helped millions of people through our articles and answers. Now our authors are keeping readers up to date with essential information through twitter. Follow Dr Ahmed on Twitter @MustafaAhmedMD
What is Aortic Sclerosis?
The aortic valve is the valve that stops blood that is ejected from the heart to the body leaking backwards. If there were no aortic valve then all the blood that was pumped out of the heart from the body would be able to fall back in! There are two main problems that can occur with the aortic valve. The aortic valve can be leaky, in a condition known as aortic regurgitation or the aortic valve can become tight in a condition known as aortic stenosis. Aortic valve sclerosis is a condition whereby the aortic valve becomes thickened but does not significantly obstruct flow, unlike aortic valve stenosis, which does obstruct flow.
What it Looks Like
See the images below. The sclerotic aortic valve is thicker than the normal aortic valve. The sclerotic aortic valve has a more calcified brighter looking appearance on the heart ultrasound scan.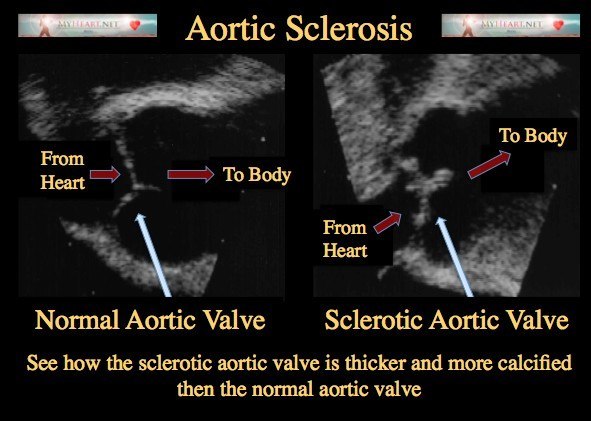 Symptoms
Aortic sclerosis is an asymptomatic disease, meaning it has no symptoms. It may be associated with the presence of a mild murmur that is picked up on examination. Often it may be found by chance in those having an echocardiogram for other reasons.
How Common is It?
Aortic sclerosis becomes more common with ageing, which makes sense as it is seen as a degenerative disease. In those less than 60 years of age, less than 10% of the population has aortic sclerosis. In those above 70 years of age between 20-40% of the population are found to have aortic sclerosis.
Will Aortic Sclerosis Become Aortic Stenosis?
Aortic sclerosis is thickening of the valve without any significant effect on the function of the valve itself. Aortic stenosis is thickening and tightening of the valve that leads to the heart having to work harder and the possibility of not enough blood being delivered to the body. The risk of aortic sclerosis progressing to aortic stenosis is low. The rate of progression to clinical aortic stenosis is under 2% per year.
Risk Factors
Age
Being Male
High blood Pressure
Diabetes
Smoking
Kidney Disease
High Cholesterol
Is Aortic Sclerosis Dangerous?
Several studies have examined the association between aortic sclerosis and the development of cardiac events. The presence of aortic sclerosis is associated with increased risk of heart attack, stroke, dying from a heart attack, or just dying from all causes. This is not a cause for alarm and in fact not surprising when you look at the risk factors for aortic sclerosis. These are the many of the same risk factors associated with other forms of cardiovascular disease. The actual risk of developing these events is still relatively small. It just that those with aortic sclerosis have a higher risk of these events than those without. The implication of this is that those patients with aortic sclerosis should pay attention to controlling typical cardiac risk factors such as blood pressure, cholesterol, smoking, diabetes, diet and lifestyle.
Do You Need Echocardiogram?
Aortic sclerosis itself does not typically require surveillance and most patients don't need to be scheduled for a follow-up study. In some cases of very thickened valves, or those nearing a diagnosis of aortic stenosis, the interpreting cardiologist may suggest a repeat study at some point particularly if the murmur worsens or symptoms develop.
Treatment of Aortic Sclerosis
There is no medical treatment for aortic sclerosis. The good news is that it is unlikely to progress to significant aortic valve disease. Those with aortic sclerosis are at higher risk of cardiovascular disease however and so they should pay special attention to cardiovascular risk factors. Recommendations would include to control blood pressure and cholesterol. Smokers should stop smoking. Diabetics need to ensure optimal control of diabetes. Attention should be paid to a healthy lifestyle. These measures will serve to reduce the risk of cardiovascular disease.
At myheart.net we've helped millions of people through our articles and answers. Now our authors are keeping readers up to date with essential information through twitter. Follow Dr Ahmed on Twitter @MustafaAhmedMD