What is a Bicuspid Aortic Valve?
The heart pumps blood out in to a large vessel called the aorta that supplies the body with blood. The aortic valve sits in between the heart and the aorta and is there to stop blood leaking backward in to the heart after is has been pumped out.
At myheart.net we've helped millions of people through our articles and answers. Now our authors are keeping readers up to date with cutting edge heart disease information through twitter. Follow Dr Ahmed on Twitter @MustafaAhmedMD
Usually the aortic valve has three leaflets; hence it's called a tricuspid aortic valve. When there are two leaflets only, it is called a bicuspid aortic valve. The two leaflets are typically a result of fusion between two of the original three leaflets. Unfortunately patients with bicuspid valve are predisposed to developing tight valves (aortic stenosis), leaky valves (aortic regurgitation) and dilation of the aorta in the chest (thoracic aortic aneurysm).

Diagnosis
An ultrasound scan of the heart known as echocardiography is typically used to diagnose bicuspid aortic valve. This will allow assessment of the valve structure, and look for associated valve tightening (aortic stenosis) or leakiness (aortic regurgitation). Importantly this will also allow assessment of the aorta and to assess widening of the aorta in the chest (aortic aneurysm).
Sometimes standard echocardiography isn't able to accurately assess the valve and so it can be difficult to differentiate between a normal tricuspid, and a bicuspid valve. Transesophageal echocardiography is much more accurate, however that involves passing a small camera in to the stomach to take close pictures of the heart and is therefore not done routinely.
In some patients, the aorta as it comes of the heart cannot be fully visualized using transthoracic echocardiography. As mentioned earlier, dilation of the aorta with aneurysm is more common in those with bicuspid aortic valve and therefore its important to make sure this is well characterized. Therefore CT or MRI imaging is recommended in those patients who do not have adequate echo pictures. MRI is generally preferred as it avoids the need for radiation exposure; particularly in those who need repeated follow up studies for surveillance.
Relation to Aortic Aneurysm
Bicuspid aortic valve is a condition that doesn't just affect the valve, rather it affects the valve and the aorta, the main vessel that leaves the heart and supplies the body with blood. It is therefore known as a valvulo-aortopathy. A significant number of patients with bicuspid valve have associated development of dilation of the aorta known as an aortic aneurysm. The area of the aorta affected is in the chest and is known as a thoracic aortic aneurysm.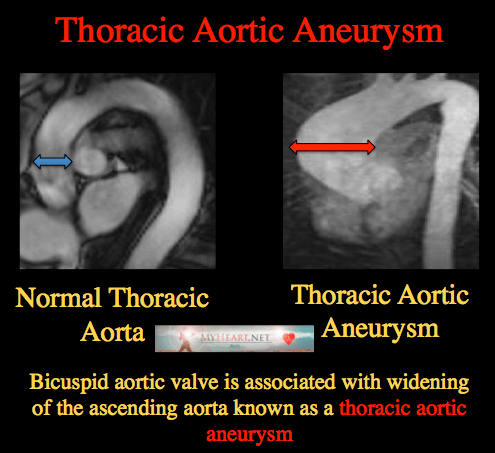 Signs and Symptoms
The way in which the diagnosis of bicuspid aortic valve presents itself is very variable. In some people, the diagnosis is made because family members are found to have it, and it is picked up on a screening heart scan. The majority of people sent for a heart scan and found to have bicuspid aortic valve are sent for the scan due to the presence of a heart murmur. Patients may be sent for a heart scan due to some unrelated reason and found to have a bicuspid valve. Therefore many of those in whom a bicuspid aortic valve is diagnosed are healthy and without symptoms.
In others however, the diagnosis may be made due to a complication associated with the bicuspid valve. Most patients with a bicuspid aortic valve will develop tightening (known as aortic stenosis) or leakiness (known as aortic regurgitation) at some point in their lifetime. Some of these may present with symptoms of heart failure due to an overly tight, or leaky valve. Others may be found to have a bicuspid valve as part of a work up for aortic aneurysm, which is an associated complication. Occasionally a diagnosis may be made under life threatening circumstances as part of a work up for the associated complications of aortic dissection, or an infection of the aortic valve known as endocarditis.
Do Family Members Need to be Screened For Diagnosis?
About 20-30% of patients with bicuspid aortic valve will have other family members affected. There is no exact genetic cause known, and the inheritance pattern can be very variable although there certainly appears to be a genetic component. In patients with bicuspid aortic valve with a known family history of valve disease or aortic disease, it is definitely recommended to screen all first-degree relatives with echocardiography. Most experts would recommend that echocardiographic screening be performed in all first-degree relatives of patients with bicuspid aortic valve.
How Often Should Follow Up Studies Be Performed?
1) The size of the aorta
2) The rate of changes of size of the aorta
3) The function of the valve.
Rate of progression of aortic dilation has been documented in several studies.
The reported average rate of progression is between 1-2mm per year. Those with more rapid progression in between studies, i.e. >0.5cm may need closer monitoring. 
Patients with a bicuspid valve and an aorta that has a diameter of >4cm should have regular repeat studies to document the size and the stability of the aorta.
In patients with aorta diameter >4.5cm imaging should be performed on a yearly basis. In some patients there is a more rapid rate of progression of aorta dilation, and it is reasonable to perform imaging more frequently if deemed necessary.
In patients with aorta <4.5cm who have documented slow progression and no family history of bicuspid or aortic disease, imaging can be left even longer than yearly.
Finally, follow up will depend on the extent of the valve disease. Those with severe tightening or leakiness of the valve will require follow up as per guidelines for valvular disease. Typically at least yearly and sometimes more frequent.
Should You Undergo Operation?
This depends on a few things. 1) The valve condition. 2) The size of the aorta.
As mentioned above, the bicuspid aortic valve is a valvulo-aortopathy diagnosis, which means it affects the valve and the aorta. If the valve becomes severely leaky or severely tight, then operation is performed as per usual guidelines. These are basically if symptoms develop, or there is evidence of heart failure or heart muscle dysfunction. However many patients with bicuspid aortic valve will have aortic disease without significant valve disease and may need to undergo operation of the aorta aneurysm. Some patients will require both are done.
Operation for aortic aneurysm in patients with bicuspid aortic valve is recommended in those who have ascending aorta diameter >5.5cm.
 Studies have shown that the rate of aortic dissection in patients with bicuspid aortic valves is reassuringly low. The old guidelines used to recommend aortic surgery when the aorta size was >5cm. The newer guidelines take in to account the low risk of complications and therefore recommend surgery when aorta size is >5.5cm.
Importantly an individualized approach should be taken and surgery recommended on an aorta size of 5.1 – 5.5 cm in patients who have shown rapid progression of aorta size (> 0.5cm per year), or in those with a family history of aortic dissection.
Some patients with bicuspid aortic valve will have only a mild to moderately dilated aorta, however they will have a severely dysfunctional aortic valve that requires surgery.
In those patients who are therefore already undergoing valve replacement surgery, replacement of the ascending aorta is recommended if the size of the aorta is >4.5cm.
There is no medicine that is proven to slow down or prevent dilation of the aorta in patients with bicuspid aortic valve. In patients with elevated blood pressure, control of blood pressure is of course recommended. Typically medicines known as beta-blockers or angiotensin receptor blockers are used.
Actionable Steps for Patients
Ensure that you take an active part in your treatment and know how often your follow up is and also at what stage your disease is at
Make sure attention is paid to treating blood pressure
Keep good dental hygiene to avoid a valve infection. Antibiotics are not routinely needed for dental procedures unless there is a history of valve infection
Ask your Dr if family members require screening
Pay attention to cardiovascular risk factors that include diet, cholesterol,