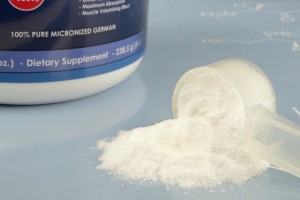 Everyone in the sporting world has heard of creatine, and many have, or at least know someone who has used the supplement.  It is the second most consumed sporting supplement after Protein (read Protein Supplements : The Truth Revealed) and its use is on the increase.  Given how mainstream and popular it has become, it is remarkable how uninformed the public are as to what exactly it does, and more importantly how safe it is to use.
In the time that I have been practicing as a Doctor in Sports and Exercise Medicine, several people over a range of age groups have asked me if they should use creatine.  Much of the information out there comes from magazine articles (often with an advert for creatine on the opposite page) or from manufacturers claims which are largely unregulated.  Clearly those feeding you this information have an agenda, and that is to push more creatine onto the consumers to increase advertising revenue or product sales.
I am not personally for or against creatine but am instead of the opinion that people should be aware of the scientific evidence behind a product before they decide to use it or not.  In this article I aim to explain why it is that creatine is thought to improve sporting performance, the optimum dosage schedule to use, the benefits one can expect and how safe it is to take the supplement.
So what is it exactly that creatine is meant to do?  Talk to people about why they are taking creatine and the most common answer is "to make me bigger", closely followed by "to make me stronger".  Ask them how it is that creatine will achieve this and they often don't know.  This naturally leads us to the question, what does creatine do?  To understand this we first need to take a look at how muscles get their energy.
Phosphocreatine Energy System
In order for a muscle to contract it requires energy.  Energy is fundamental to muscle contraction, and without energy they cannot function.  Muscles get their energy from a molecule known as Adenosine Triphosphate (ATP).  This is the only unit of 'energy currency' that muscles can use.  When a unit of ATP is used it gives up its energy to the muscle in the form of a phosphate group (P), and in essence loses a P to become Adenosine Diphosphate (ADP).  This ADP then waits to be given back its P to form ATP, so it can once again provide energy to the contracting muscle.
Muscles themselves are only able to store a very tiny amount of ATP, such a small amount in fact, that it runs out in less than one second!  In order for the muscle to keep functioning it must be supplied with more ATP.  The body has various mechanisms to convert ADP back into ATP, and it is here that creatine becomes of interest.
The most immediate system available is the Phosphocreatine energy system.  Creatine (Cr) can be used as a carrier for P, and when in possession of one becomes Phosphocreatine, or Creatine Phosphate (PCr).  This high energy molecule (PCr) is actually stored within the muscle at rest.  During the first second of any immediate or intense movement this system is activated and at once begins to convert used ADP back into ATP, itself once again becoming Cr.  
Out of all the energy replenishing systems, the PCr system is the quickest and highest yielding.  It is the most important system in providing the energy needed for intense bursts of exercise such a sprinting or lifting a heavy weight.  The problem is that the muscles have a finite store of PCr (less than ten seconds worth), and as once depleted they are not replenished until you rest.  The next system to kick in is the glycolytic system, but although it provides a longer source of energy, it is not able to do so as fast as PCr.  This is why you can lift a heavy weight for a few reps before it starts to feel harder or sprint the first half of a 200m race faster than the second half.  It is not that the muscles become weaker but more that they cannot get energy fast enough.
So why might Creatine Supplementation be useful?
Now you understand the functioning of the PCr system, it will be apparent that the limiting factor when carrying out short bursts of high intensity exercise is the availability of PCr.  As soon as this runs out, so does your ability to sustain maximal performance, or at least until you have rested for a couple of minutes.  This naturally leads us to the assumption that if we can increase our stores of PCr then we can in turn increase our performance.
The theory is that by supplementing with creatine, the levels of creatine in our muscles will increase allowing us to have more PCr available for use at the beginning of a bout of high intensity exercise.
Although creatine comes as a supplement, we also ingest it as part of our everyday diet.  On average we consume about 1g of creatine per day.  The rest of out creatine is made by the liver and the kidneys.  Adding in creatine supplementation has been shown to lead to an increase in the concentration of creatine within the muscles.  It should be noted however that when supplementing, we actually shut down production of our own creatine, but this does seem to return to normal once we stop the supplements.
What dose do I need to take?
If you read around you will find all manner of regimes for increasing muscle concentration of creatine.  Some people will tell you that you need super high 'loading' doses of 20g or more for the first week in order to stimulate uptake, followed by a 'maintenance' phase consisting of a lower dose for a more sustained period to maintain the concentration that you have built up.  Others will tell you just to take a smaller dose from the beginning.  So who is correct?
Studies have shown that both regimes will in fact result in similar increases in muscle creatine concentration.  Loading doses MAY result in a quicker rise but both regimes will result in the same final muscle creatine concentration.  It should also be noted at this point that there is a maximum concentration of creatine that can be held within muscle tissue and the dosing regimes commonly used will result in this.  There is NO BENEFIT in taking higher doses of creatine as the muscles cannot absorb it and it may even lead to permanent damage of the vital organs.
Although taking a 'loading dose' may speed up the process, in my opinion taking a lower sustained dose of 0.03 mg/kg/day (average 2-3g) over the supplementation period is likely to be a safer option as it will place less stress on the liver and kidneys whilst still getting you to the same endpoint.
Does Creatine result in increased performance?
The answer to this question is not as simple as yes or no.  There have been numerous studies into creatine supplementation and what they have shown is that creatine MAY result in increased performance in short duration, maximum intensity training.  The reason I say 'may' is because studies have consistently shown that although creatine can work for a lot of people, there is a proportion that it will just not work for no matter what.
When it does work, it does so by increasing the short term supply of energy to the muscles (as explained above).  It does not work by making the muscles bigger or stronger.  The increase in energy availability allows you to do perhaps one or two more repetitions per set.  This in turn adds up to several extra repetitions per training session which over time would be equivalent to having carried several extra training sessions in the same time period.  This eventually leads to increased muscle growth and strength compared to not taking creatine.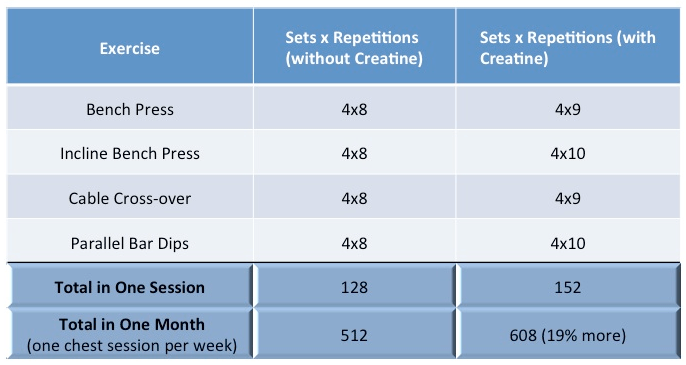 Creatine may provide added benefit in the weights room, but outside of here it seems to be of little use.  There is not really any conclusive evidence that it helps in anaerobic activity and no evidence that it improves aerobic performance.  There is also no real evidence that improvements in the weights room as a result of creatine translate to sports specific activities e.g. creatine can increase strength of cyclists or swimmers but this does not result in an increase in performance on the bike or in the pool.
Will Creatine make me bigger?
As I have explained above, over time you will get bigger but creatine itself does not result in a direct increase in muscle mass.  It has no effect on protein synthesis.  It is not uncommon for those who start creatine to experience an instant weight gain but this is nothing more than water retention.  When creatine enters the muscles it takes water with it making muscles look bigger, and as soon as you stop the supplement, the water is urinated out by the kidneys and the muscles will shrink.
Is Creatine safe?
This is the million dollar question, and currently the answer is 'we just don't know'.  There are case reports of people on creatine suffering serious liver or kidney failure, but these are few and far between and not conclusively caused by creatine.  It seems that in the short term, in low doses, creatine seems to be a safe supplement.  The problem is that there in no knowledge of the long term effects of creatine supplementation.  It could be the case that those taking long term creatine could be slowly damaging their livers or kidneys and twenty or thirty years down the track this damage may come to light, but until we see what happens to todays creatine users in the future, we are simple guessing.
Another major issue is purity.  Creatine is classed as a dietary supplement and as a result is not regulated by the Food and Drug Administration (FDA).  This lack of regulation means that there is very little control as to what is in the supplements you buy on the shelves, and there have been several reports of contaminated products.  It also means that companies marketing the product can pretty much claim what they like, so be very careful and never blindly believe what you read on the bottle as it is often not backed by any science!
Concluding remarks
There is no doubt that creatine supplements can have a positive effect on the phosphocreatine energy system, and in turn can increase performance.  These increases however seemed to be limited to short duration, maximum intensity training.  Creatine generally seems to be safe to use in the short term but there is a lack of long term data so we can only speculate as to its long term safety.
Creatine can be useful in helping people increase their performance in weights room but it is certainly no wonder drug and the gains seen will be in the region of a few % over a period of months.  In the end there is no substitute for hard work, patience, and dedication.