What is Enlarged Heart? Enlarged heart refers to enlargement of either the heart chamber size or the heart muscle size in a process known as hypertrophy. Often this enlarged heart occurs as a response to stresses faced within the heart and although initially may be a form of compensatory response it often ultimately turns out to be somewhat harmful. In this article we will review the various forms of enlarged heart, and discuss evaluation and treatment of these.
Why Does Enlarged Heart Happen?
Lets go through a bunch of scenarios here to help understand enlarged heart and the process of ventricular hypertrophy, remodeling, and why it happens.
High Blood pressure and Enlarged Heart – The heart usually pumps in to the body against the blood pressure in the body, and at a normal blood pressure level it is designed to handle this well. Now if that blood pressure is very elevated, the heart has to pump against this. This increases well stress on the wall of the heart muscle that is struggling to do its job at this point. The heart at this point needs to respond. If you go to the gym and lift weights, your muscles get bigger as a response to the weight and enlarge, its called hypertrophy. The heart enlarges in the same way; ultimately it's about minimizing stress. The problem with the heart enlarging here however is that firstly it doesn't always regress to normal size when the stress is minimized, and secondly it fundamentally alters the hearts architecture in a way that can lead to problems down the road such as problems relaxing and failure of the muscle itself.
Heart Attacks and Enlarged Heart – In a heart attack a certain part of the heart muscle may often die and become thinned out and form a scar. This increases stress on that area of the heart and forces the other areas of the heart to become more active to compensate. This redistribution of wall stress leads the heart to enlarge over time in a process called remodeling. Unfortunately unless this remodeling can be somewhat prevented the heart function will drop as a result and heart failure may ensue.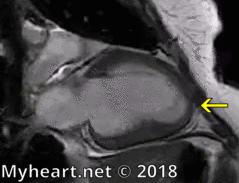 Genetically Enlarged Heart – Certain genetic conditions lead to the heart to grow to where it becomes a clearly enlarged heart, often in distinct patterns. The most classic example of this is hypertrophic cardiomyopathy, the kind that often leads to sudden death in athletes. The enlarged heart of hypertrophic cardiomyopathy involves disarray of the fibers that make up the heart muscle and can lead to lethal heart arrhythmias as well as obstructing blood flow out of the heart. In hypertrophic cardiomyopathy the heart is very thick. There is also a genetic component to an enlarged heart known as dilated cardiomyopathy. This is different in that the walls of the heart are thin and the heart chamber sizes enlarge while the heart pumping function can severely diminish.
Valve Disease and Enlarged Heart – Different heart valve diseases lead to different types of heart enlargement which although initially felt to be compensatory remodeling ultimately lead to heart failure if left untreated. In aortic stenosis, the valve through which blood has to go through to leave the heart becomes tight, increasing pressure and stress on the wall of the heart known as pressure overload. The heart becomes thick to compensate in a form of enlarged heart called concentric hypertrophy. The thick heart, although pumps well, does not relax well and that can lead to heart failure, and if not treated in time can lead to severely reduced heart function and weak muscle. In aortic regurgitation, that same valve is leaky and there is a different type of stress in addition known as volume overload. Aortic regurgitation is somewhat unique in that there is pressure and volume overload leading to both enlarged heart chambers and thick heart muscle.
In mitral regurgitation the mitral valve that separates the upper and lower chambers of the left heart is leaky. A classic cause for this leak is mitral valve prolapse. In mitral regurgitation the heart is placed under a volume overload stress and the heart enlarges by increased chamber size and often-thinner walls in a process known as eccentric hypertrophy. Unfortunately if the heart is to get too enlarged in mitral regurgitation even correction of the leak with surgery or interventional procedures such as the Mitraclip will not improve the heart function that will often be reduced after surgery. It's critical therefore to understand and recognize the various forms of heart enlargement and patterns of change when managing heart disease.
Right-Sided Enlarged Heart
We most commonly talk about left sided enlarged heart however it is important to identify right-sided heart enlargement also. The right side of the heart is not able to cope with large pressures in the same way the left side does, so in periods of stress it may enlarge and fail immediately. Examples of causes of acute right-sided heart enlargement include pulmonary embolism clot in the lungs or a right-sided heart attack. Other important causes include holes in the heart, leaky tricuspid valve, or increased pressures in the lung arteries known as pulmonary hypertension.
Enlarged Heart – Can It Return To Normal?
Below we will discuss some of the treatments for enlarged heart. Enlarged heart, depending on the cause may return to normal size if appropriate and timely treatment is given. In many cases it will not however, in which case the goal is prompt recognition and treatment to stabilize the situation and prevent further enlargement. Reversible causes include early stages of hypertensive heart caused by high blood pressure, early stages of significant valvular heart disease, early stages of a heart attack, and sudden onset weaknesses of the heart muscle known as cardiomyopathies that may include pregnancy related, stress related or viral. The right side of the heart has a remarkable ability to bounce back from acute strain and treatment of the underlying cause may often lead to resolution of the enlargement completely.
Treatment of Enlarged Heart
Treatment of enlarged heart depends on the underlying cause. Above we have talked about many of the causes, however there are many other causes which we do not exactly know the cause of. In enlarged heart of high blood pressure, meticulous blood pressure control is key and can certainly lead to regression of the enlargement to varying degrees. In a heart attack and other cardiomyopathies, the process of remodeling can be somewhat attenuated by taking medicines such as ACE-Inhibitors and beta-blockers that can lead to improvement of heart function and regression of enlargement. In valve disease, treatment at the appropriate time, prior the onset of full-fledged failure, can often lead to regression of heart enlargement. Important to recognize however is that not only can the appropriate treatment prevent or improve enlargement, it may save lives.