Exercise in Coronary Artery Disease
As mentioned there are very few reasons why someone shouldn't exercise, and coronary artery disease isn't one of them.  Although exercising in Coronary Artery Disease is advised, this is only of the disease is classed as STABLE.
For someone to be classed as having stable coronary artery disease they must
Have been given a diagnosis of Coronary Artery Disease
Have no symptoms of angina
If angina is present it must be predictable in its onset and relief (stable angina)
Symptoms must have been stable for over 60 days
Must have been no heart attack (such as a STEMI or Widowmaker) within the previous 60 days
When the initial diagnosis of coronary artery disease has been made, it is important that a patient is initially worked up thoroughly with an EKG, Stress Test (click here to see if you need a stress test), and maybe an angiogram if indicated, before any exercise program is undertaken.  Consult your Cardiologist if you are unsure.
For those suffering from Stable Coronary Artery Disease, exercise has been shown to provide a significant decrease in morbidity (symptoms), mortality (death), symptoms of angina, chance of having a heart attack and chance for ending up in hospital because of your heart disease.
In addition to this, exercise has numerous other benefits such as reduced chance of developing diabetes, increased bone strength, less chance of developing cancer, and decreased stress levels.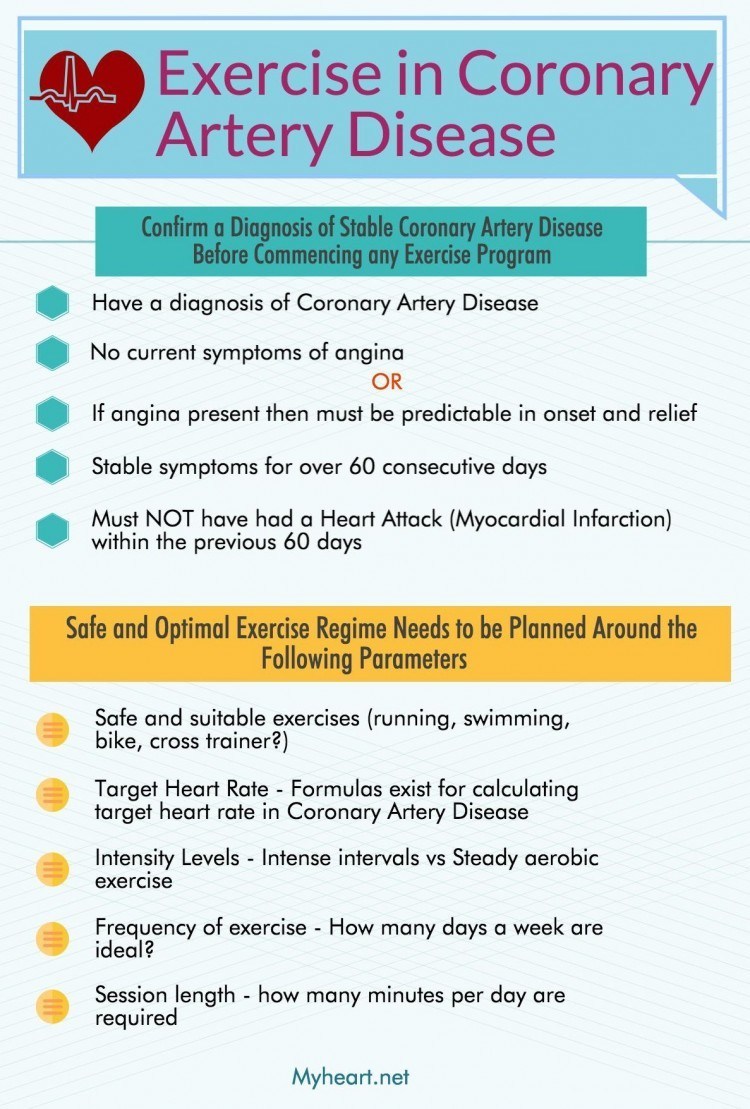 So by now it should be clear that there is no question as to if you should be taking part in exercise if you suffer from coronary artery disease.   What is far more important and the biggest stumbling block when it comes to patients with Coronary Artery Disease exercising is the lack of information and guidelines on the following key points:
What exercises are safe?
Ideal target heart rate
How often to exercise
How long to exercise for
Optimal length of each session
Is angina in exercise safe?
Aerobic vs Resistance exercise
There are very few resources out there in the public domain that address these questions, which is astonishing considering over 370 000 people die every year in the USA alone as a direct result of Coronary Artery Disease. Fortunately however the area has been researched both medically and scientifically allowing us to devise safe and effective exercise programs for those suffering from stable Coronary Artery Disease.
Over the coming months we will be developing a comprehensive online resource of exercise guidelines for those suffering from Coronary Artery Disease as well as other forms of heart disease. These will include complete step-by-step exercise programs as well as in depth explanations to enable you to better manage your own health.