The dramatic decrease in mortality from cardiovascular disease between 1970 and 2010 is one of the greatest successes of modern medicine. In several industrialized countries (particularly North America, Western Europe, Japan, Australia, New Zealand), the mortality rate fell by about 70% during this period, so that in some countries (notably Canada), cardiovascular disease is no longer the leading cause of death, now ranking second to cancer.
It is estimated that about half of this drastic decrease in cardiovascular mortality is due to improved medical treatment, and the other half to improved risk factors, notably the reduction in blood cholesterol levels and the significant decrease in smoking rates during this period (no less than a quarter of coronary heart disease is due to tobacco). It is no coincidence that the decrease in cardiovascular mortality coincided with the publication in 1964 of the devastating American Surgeon General's report on the dangers of tobacco (which prompted millions of people to quit smoking), and with the simultaneous introduction of specialized intensive first aid for patients suffering from heart attacks.
Worrying Signs
This progress is encouraging, but it is important to note that the battle is far from won. Several recent studies, notably in the United States, paint a rather bleak picture of population health outcomes, including an abnormal increase in premature mortality among young adults (25-50 years). While between 1999 and 2014, total mortality (all causes) decreased among women aged 50 and over, it increased sharply among those under 50 (Figure 1, highlighted top row). A similar phenomenon is observed among young men (25-39 years of age), mainly reflecting the significant increase in deaths caused by opiate overdoses and suicides over the past 15 years. The devastating impact of these "deaths of despair," as they are termed, does not, however, fully explain the observed increase in mortality among young adults. Studies also show a surprising increase in deaths due to cardiovascular disease among women aged 25 to 50 years, a completely opposite trend to the decrease in mortality associated with these diseases among older women (Figure 1, highlighted center row). In sum, while it is generally believed that the increase in overall mortality and lower life expectancy observed in recent years in the United States are merely consequences of the opiate scourge, the fact remains that the increase in deaths from cardiovascular disease is also contributing to this phenomenon.
Currently-available data does indeed suggest that the steady decline in cardiovascular mortality observed over the past 40 years is slowing, and beginning to plateau. For example, a study conducted in the United States shows that, while in the first decade of the millennium (2000-2011) mortality from coronary heart disease and stroke declined at a rate of 3.7 and 4.5 percent per year, respectively, they have decreased by only 0.76 and 0.37 percent per year since 2011 (Figure 2).
This plateau is particularly evident when considering the premature mortality among young adults. For example, while coronary heart disease mortality among men and women under 55 years of age fell at a steady rate during the 1970s and 1980s, the rate of decline sharply changed direction in the late 1980s, becoming less pronounced thereafter (Figure 3). This is particularly striking among women, whose incidence of coronary heart disease has remained largely unchanged since 1990.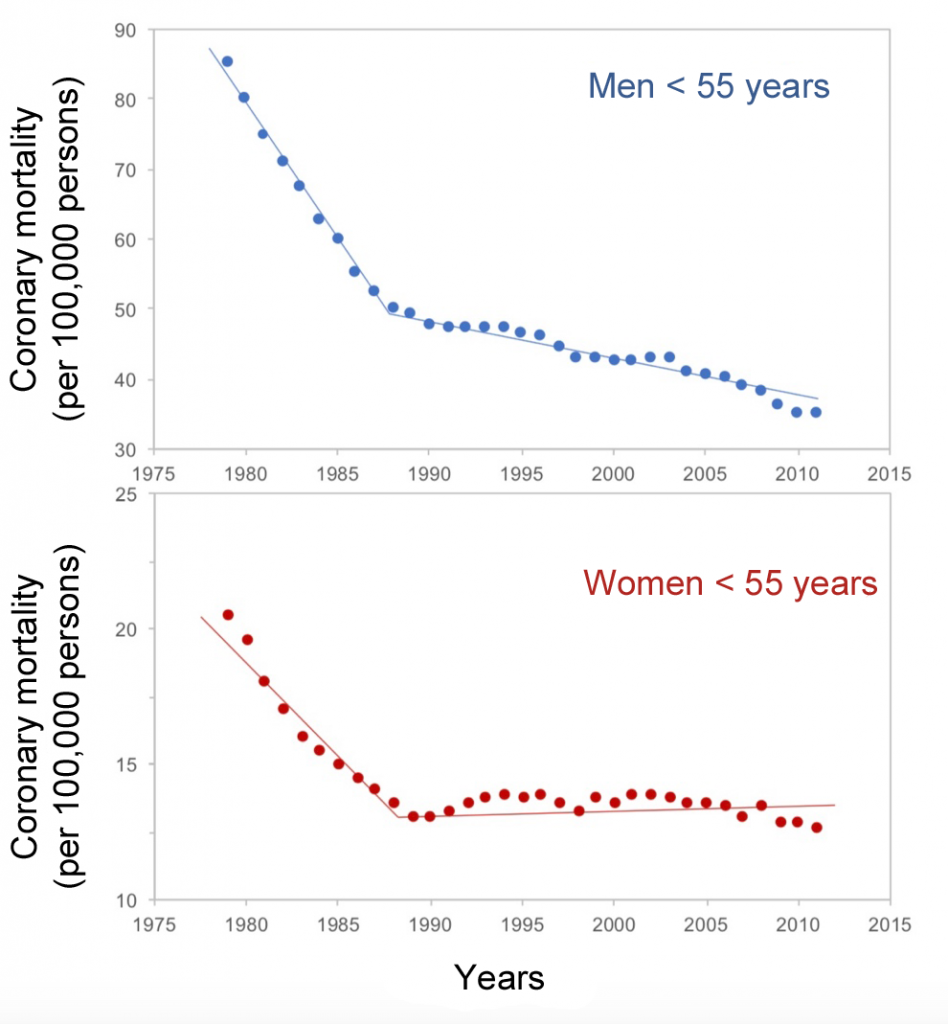 Several studies conducted around the globe suggest that this trend is not only observed in the United States but also affects young adults in several industrialized countries and transition economies (Table 1). In Australia, the United Kingdom, Canada, Scandinavia, France, and China, current data shows a net slowdown in the decline in cardiovascular mortality and even, in some cases, an increase in coronary heart disease deaths in this population.
A similar phenomenon is observed for ischemic stroke, the incidence of which increases dramatically (about 100 times) between the ages of 40 and 80 and is therefore mainly considered a disease that affects older people. Yet, according to a study in France, the incidence of this disease more than doubled among young adults between 1985 and 2011 (Figure 4), a phenomenon which was also observed in the United States, Denmark, and Sweden in this same period.
Overall, these observations paint a very disturbing picture of the current cardiovascular health of the population in industrialized countries, particularly that of young adults. As they age, this younger segment of the population will necessarily be at greater risk of cardiovascular disease, suggesting that instead of continuing to decline, as it has been the case for 40 years, cardiovascular mortality could increase in the coming years.
The Issue of Excess Weight
As this reversal cannot be explained by a decline in medical care (which, on the contrary, is constantly improving), the only possible explanation is that recent lifestyle changes have created conditions conducive to the development of cardiovascular diseases. Indeed, studies comparing adherence to the seven essential factors for optimal prevention of cardiovascular disease (see Table 2) according to the American Heart Association (AHA) show deterioration between 2003 and 2011[PB5], with a lower proportion of people who are at a normal weight, are physically active, and have ideal levels of cholesterol, blood pressure, and blood glucose.
Of all these factors, the increase in the number of people with higher than normal body weight is certainly of most concern, as excess weight, and especially obesity, is a major risk factor for diabetes, cardiovascular diseases, and premature mortality. Several experts who have addressed this issue suggest that the slowing decline in cardiovascular mortality observed in recent years is a consequence of the obesity "epidemic" that began a few decades ago, and whose negative effects are now beginning to manifest. For example, in the study mentioned in Figure 2, the authors note that the prevalence of obesity increased from 23% to 35% between 1988 and 1994, while that of diabetes tripled during this period. These observations tend to confirm the pessimistic scenario described by some researchers, namely S. Jay Olshansky, according to which the dramatic increase in the number of obese people could decrease life expectancy in the next generation. In short, the increase in the number of overweight people and the increase in diabetes are counteracting progress made by the reduction in smoking and the improvement of medical care.
What Does the Future Hold?
There is no doubt that the current epidemic of obesity and diabetes is the greatest public health challenge of this century. This is especially true since excess weight affects not only adults but also has a great impact on children and adolescents. In the United States, it is estimated that one-third of children are overweight or obese, a trend that has also had a severe impact on Canada, which has one of the highest rates of childhood obesity in the world, presenting in 15% of boys and 10% of girls. Our society is surprisingly passive in the face of this alarming situation, especially considering that childhood obesity is associated with a higher risk of premature death, mainly due to an increased risk of cardiovascular disease.
This is due to the high probability that overweight children will become obese when they reach adulthood. Studies show that prolonged exposure to excess body fat from childhood to adulthood is associated with a dramatic increase in several risk factors such as type 2 diabetes (5-fold increase), hypertension (3-fold increase), excess LDL cholesterol and decreased HDL cholesterol (2-fold increase), excessive triglyceride levels (3-fold increase), and the presence of atherosclerosis plaques in the carotid artery wall (2-fold increase). Several studies, including the Bogalusa Heart Study, have shown that atherosclerosis is a phenomenon that begins in childhood, and that about one-third of people aged 15-20 already have atherosclerosis plaques in the walls of their blood vessels, including coronary arteries. The presence of many risk factors among obese children accelerates the development of plaque and is therefore a veritable time bomb in terms of the risk of being prematurely affected by cardiovascular disease, with disastrous consequences for the life expectancy of these children.
Promoting Health
The good news is that this situation is not irreversible. It has been observed among people who were overweight or obese in childhood but who had normal weight in adulthood that the various cardiovascular risk factors (diabetes, hypertension, etc.) were similar to those who had maintained a normal weight throughout their lives. This is in line with other studies showing that being overweight in childhood only increases the risk of type 2 diabetes in adulthood if excess weight is maintained until or after puberty.
Of course, early intervention is the best way to address the source of excess weight in youth, ideally in the early years of children's lives. The risk of obesity is established very early on, as half of the children and adolescents who become obese are already overweight when they enter kindergarten. Moreover, we must cease to consider the presence of excess weight in children and adolescents as a "temporary" excess that will disappear on its own in adulthood. On the contrary, a study has shown that obese adolescents are not only much more likely to remain obese in adulthood, but that obesity can also worsen considerably, with up to a 20-fold risk of becoming what is called "morbidly obese," i.e., a very advanced degree of obesity characterized by a body mass index higher than 40.
Preventing excess weight is not easy, and childhood is a prime time for intervention. Our adult behavior often originates in our childhood environment, and it is possible to leverage the great plasticity of the human brain to establish healthy behaviors early on, which will be maintained throughout our lives and help prevent the development of cardiovascular disease. This is particularly true with regards to nutrition, which is a key element in body-weight control. For example, the consumption of added sugars is known to be associated with an increase in adiposity and abnormal blood lipid levels (dyslipidemia), which has a particularly harmful impact when these sugars are present in the diet of young children. Drastically reducing the consumption of industrial foods containing too much of these added sugars (and often too much saturated fat and salt), while encouraging home-cooked family meals, is a good starting point for developing a healthy attitude towards food. Taking care of our children does not only mean making sure they have everything they need. It is of equal importance to watch what they eat so as to prevent the accumulation of excess weight.
We would like to thank Jay Roberson for his help with the figures. This article is also published in "Observatoire de la Prevention", in Montreal, Canada. If you like the information in this article, make sure you read also: Can Heart Disease Be Reversed?, 10 Lifestyle Habits of Super Heart-Healthy People, The Obesity Epidemic – Don't Wait Until It's Too Late, Cholesterol Treatment and Atherosclerosis: A New Frontier, and Uncontrolled Hypertension Including Hypertension Emergencies.