Itchy feet are an extremely common complaint presenting to Doctor's Surgeries and Pharmacies across the USA and millions of dollars are spent on remedies each year. People often suffer from itchy feet for several months before seeking help, leading to unnecessary distress and disease progression. The truth is that there are a few conditions that cause the majority of presentations of itchy feet and knowing them can make the treatment process quick and easier on the wallet.
The causes of itchy feet can be divided into two main groups
Infectious Causes
Non-infectious causes
It is important to differentiate between these two main causes of itchy feet as the treatment is different, and if the wrong type is used it can in fact make the condition worse.
Infectious Causes of Itchy Feet
The most commonly encountered infectious cause of itchy feet in clinical practice is Athlete's Foot, also known in the medical field as Tinea Pedis. It is caused by an organism known as a dermatophyte. It is an extremely infectious condition, which explains why it is the most common cause of itchy feet. The mechanism of spread is via direct contact with spores, which are shed off infected people's feet onto the floors of swimming pools and locker rooms and then picked up by people walking barefoot over the same surface.
The tinea may lie dormant on the foot for some time until they are stimulated by activities that make the feet sweat, at which point the start to cause itchy feet. This acute infection leads to intensely itchy lesions/vesicles (little blisters) on the sole of the foot or in between the toes.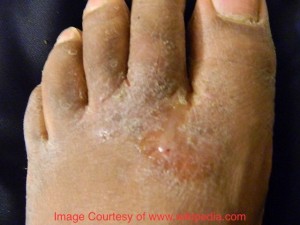 This acute attack of itchy feet may go on for a short period before regressing, at which point the tinea once again lay dormant until stimulated again by sweaty feet. The cycle of infection, resolution, dormancy and then infection may be repeated indefinitely.
After a few cycles the condition can become more long term leading to chronic tinea pedis and constantly itchy feet. The disease slowly progresses, leading to itchy, scaly skin, often with red lesions or erosions interspersed throughout. These can then spread over the whole sole and often the spaces between toes (especially third and fourth) are severely affected.
The treatment for itchy feet in the case of Athlete's foot is simple and often a cream is all that is required. Topical terbinafine (Lamasil), or any of the creams ending in 'azole', such as clotrimazole can be used to clear Athlete's foot. They should be applied to a clean dry foot once a day for four weeks to allow the infection to be adequately cleared and the itchy feet to resolve.
In severe or resistant cases, oral versions of the above medications can be used to treat itchy feet, but in this case you will need to consult your doctor as these medications can be harmful if not monitored.
Non-infectious Causes of Itchy Feet
The most important condition to consider when it comes to non-infectious causes of itchy feet is acute palmoplantar eczema, also known as dyshidrotic eczema or pompholyx.
This Condition results in sudden eruptions of intensely itchy skin with small or large blisters scattered over the affected area. The eruptions can affect the palms, the soles or both and can range from mild to severe. As with Athlete's Foot, the episodes can come and go, often lasting for weeks at a time.
The trigger for pompholyx is not a dermatophyte, but instead the itchy feet can be triggered by allergy, contact with irritants, smoking, stress and warm weather.
The treatment for this cause of itchy feet is a very high potency steroid cream (such as Clobetasol Propionate) applied twice daily until symptom resolution. To aid resolution, occlusion therapy can often be used overnight to increase the potency of the steroid cream. In severe cases of itchy feet cause by pompholyx, oral corticosteroids such as prednisone may be required, but this must be under medical supervision.
Itchy Feet – Don't Suffer Unnecessarily
So if you are suffering from itchy feet, hopefully you now have a good idea what is causing it and as a result can head to your local Doctor or Pharmacy and initiate treatment. There is no need for anyone to suffer from itchy feet!