By Mustafa Ahmed MD and David McGiffin MD  
What is Mitral Valve Repair Surgery?
When the mitral valve is severely diseased it can lead to heart failure and associated symptoms such as shortness of breath and fatigue as well as heart enlargement. The most common diseases are a leaky mitral valve known as mitral regurgitation and a tight mitral valve known as mitral stenosis. Mitral valve repair is typically reserved for mitral valve regurgitation. When fixing the mitral valve by surgery there are 2 main approaches. The first is replacing the valve in a mitral valve replacement operation, for example using a metal or a tissue valve.
At myheart.net we've helped millions of people through our articles and answers. Now our authors are keeping readers up to date with cutting edge heart disease information through twitter. Follow Dr Ahmed on Twitter @MustafaAhmedMD
The second is repairing the mitral valve in a mitral valve repair operation. This is very important as very often valves that can be repaired are simply replaced; this is despite a number of well-known advantages to mitral valve repair over replacement. The reason this is done is because many surgeons simply aren't experienced enough in the art of mitral valve repair.
What Happens in Mitral Valve Repair Surgery?
In mitral valve repair surgery, patients are taken to the operating room and put to sleep in the way they usually are for open-heart surgery. Then depending on the approach used the appropriate incisions are made. This can range from a full sternotomy where the chest is cut-open down the middle, or a smaller incision called a mini incision. Another method is robotic mitral valve surgery. Robotic mitral valve surgery does not require large incisions. Robotic mitral valve surgery is described in detail below.
The patient is then placed on a heart lung machine. This is important as it takes over the work of oxygenating the blood and delivering it to the rest of the body. It allows us to stop the heart and work on the mitral valve. The valve is then repaired using a number of techniques. Mitral valve repair surgery is very much an art form and experience is key. Techniques include putting in chords in place of the ruptured chords that led to the leaky valve in the first place. Cutting out extra mitral valve leaflet tissues for large prolapsed valves and making other modifications to the valve leaflets to prevent further leakiness. Finally a band is typically placed around the valve known as an annuloplasty ring. This is due to most patients with mitral valve disease having a larger than normal annulus.
Once the valve is repaired, the valve is tested to ensure the leakiness has resolved. Occasionally further modifications will need to be made. The heart is then restarted, the patient is taken of the heart lung machine and the chest is closed. The whole process may typically take between 2-4 hours depending on how complex the mitral valve repair surgery is.


 Can all Mitral Valves be Repaired?
 The simple answer is no, however its important to remember that in the right hands, the majority of valves can be repaired. The things that may prevent a valve from being repaired include, too large a heart, a very degenerated and calcified valve and a rheumatic heart valve. There may be a lot of mitral annular calcification making it difficult. Experts can repair even some of those. Importantly some experts may say that a replacement is preferable because although the valve can be repaired in the short term, the likelihood of recurrence is so high that a replacement makes more sense. A surgeon with a proven track record of repair and appropriate experience should only make that decision.
 What's the Difference Between Mitral Valve Repair and Mitral Valve Replacement Surgery?
 In mitral valve repair surgery the patient keeps their own valve and a number of techniques as described above are used to repair the valve so it functions normally again. In mitral valve replacement surgery, the patient's valve is essentially cut out and a new valve put in. This may be a tissue or a mechanical valve. Mitral valve replacement surgery is described in detail in this linked article.
 Can Mitral Valves be Repaired Without Surgery?
 Advances in technology have meant that there are ways in which the mitral valve can be repaired without having to undergo open-heart surgery. The most well known example of this is the Mitraclip procedure. The Mitraclip procedure is described in detail in this linked article. Currently the Mitraclip is reserved for patients that are considered too high risk for traditional mitral valve repair surgery. When I perform these procedures, a heart team that includes interventional cardiologists, cardiac surgeons, and imaging specialists to decide the best possible option for the patient assesses patients.
 What is Robotic Mitral Valve Repair?
 Robotic mitral valve repair surgery is an exciting option that involves the use of the Da-Vinci robot. This allows the mitral valve to be repaired through the use of very small incisions on the chest wall and avoids the need for a sternotomy. This option is not available in many centers and is highly dependent on the experience of the surgeon performing it. In the right hands it is a good option that allows a quicker recovery time than conventional open-heart surgery.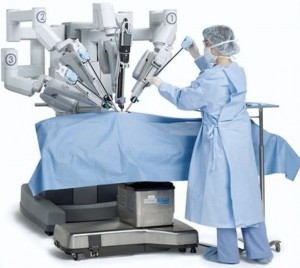 How long does a Mitral Valve Repair Last?
 This depends on the operation performed and the condition of the valve and the heart at the outset. In general, if performed in an experienced center the probability of needing another operation in 15yrs is about 10%. In general mitral valve repair should be considered a long-term solution.
 What are Restrictions after Mitral Valve Repair?
 Patients are placed on a blood thinner called Coumadin for 4 weeks after the repair. If a full sternotomy is performed where the chest is cut open down the middle then there should be no heavy lifting for 8 weeks. Driving can usually be resumed after 2-3 weeks. Heavy lifting work can be resumed after 10 weeks. Office work can be resumed typically when the patient feels like it. At first half days rather than full days may be preferred. Recovery time is likely much quicker after robotic surgery. With the Mitraclip procedure patients may even be able to go home the next day.
 Important Considerations for Mitral Valve Repair Surgery
 As a structural heart and valve specialist I cannot emphasize enough the importance of going to a very experienced center when mitral valve surgery is being considered. This is for a number of reasons.
Mitral valve repair surgery is one of the most experience dependent heart surgeries and many surgeons will simply replace a valve because they cannot repair it. This problem is avoided in expert hands.
The chance of surviving is significantly better when the mitral valve repair surgery is performed in a reference center that is performing a high number of surgeries. In a non-complicated repair the chance of survival should exceed 99%!
The chance of having complications around the time of mitral valve repair surgery is significantly higher in centers with a lower yearly number of surgeries. Complications include lung and kidney issues.
In reference centers the options available ensure the right fit for a patient. In many centers mitral valve replacement surgery is the only option. In our center for example options include, standard mitral valve repair, mini approach repair, robotic surgery, redo and redo-redo surgery, and the minimally invasive Mitraclip procedure.