Cardiac Magnetic Resonance Imaging (MRI) is a completely noninvasive test that uses a magnetic field and radio frequency waves to create detailed pictures of the heart and blood vessels. It depicts the heart wall and valves structure and displays its function. It provides information on the regional and global heart function, valves and their function as well as other structures around the heart such as the pericardium.
Contrary to X-rays, cardiac MRI does not use ionizing radiation so it can be repeatedly used to evaluate changes in the heart structure over time without an increased risk of cancer. Cardiac MRI can also show patterns of blood flow through the heart.
Are cardiac MRI scans safe for patients with pacemaker defibrillators?
MRI is a safe and painless test for most people. Patients with any type of metal device inside their body need to be screened before having an MRI since many types of metal are dangerous and potentially lethal in an MRI magnetic field. In general, patients with inner ear implants, neuromuscular stimulation (pain management), implanted drug infusion pumps, IUD's, brain aneurysm clips that are not approved for MRI, some dental implants, or metal fragments, particularly in the eye, should avoid MRI. Certain types of metal or metallic devices, however, are considered MRI safe or MR conditional and can be placed in an MRI magnetic field with minimal to no risk. Many types of modern pacemakers fall into the category of MR conditional, and patients with these types of devices can undergo an MRI exam under the appropriate medical supervision. The first MR conditional implantable device was approved by the FDA in 2011.
The 2017 Heart Rhythm Society guidelines provide the most up-to-date recommendation for the performance of MRI in cardiac implantable electronic devices. They make a strong recommendation for MRI with MR conditional systems only in the context of a standardized institutional protocol.
Before the MRI Procedure:
Exclude patients with

Older devices (pacemaker <1998, ICD <2000)

Recently implanted devices unless medically necessary

Record device parameters
Reprogram pacer /ICD to baseline VVI
Deactivate tachyarrhythmia therapy or other functions
During MRI:
Monitor blood pressure, ECG, O2 saturation, and symptoms
After MRI
Recheck device parameters
Restore original programming
Follow up interrogation in 3-6 months
MRI in pacemaker dependent patients is allowed with the provision of temporary pacing facility and a permanent-implantable-device-trained physician in place.
Original concerns about mechanical displacement of the device due to the powerful magnetic field have been unjustified because the Ferro-magnetic content of these devices are extremely low, particularly in the MR compatible systems. These newer devices and their leads do not undergo any significant MRI-induced heating and therefore do not pose an increased risk of MRI-induced thermal injury. Device reprogramming including "power-on" reset can occur in MRI systems because the strong magnetic field can activate the reed switch on the device. For this reason, a qualified pacemaker/ICD technician and a clinical nurse are always present throughout the study, making the appropriate parameter changes before and after the examination.
The location of the pacemaker/AICD lead in the chest wall can affect the image quality of a cardiac MRI study with left-sided devices creating more artifacts, leading to reduced diagnostic accuracy. For cardiac MRI imaging, gradient echo sequences display fewer artifacts. Below are two examples of patients with ICDs and cardiac MRI imaging performed with the help of Dr. Ricardo Bracer in Radiology.
Our first patient has chronic systolic heart failure caused by a large inferior myocardial infarction. First, the AICD (automated implantable cardioverter defibrillator) was interrogated and placed on standby mode by a Medtronic technician. The patient was monitored during the exam. Cardiac MRI was performed with and without contrast using cardiac gating and breath-hold technique. Cine steady-state free precession sequences were used to evaluate LV function. Following the administration of 11 cc of Gadavist, immediate post-contrast images were obtained to evaluate resting perfusion. A specialized T1 mapping Look-Locker sequence is then obtained followed by post-contrast delayed sequences to assess for late gadolinium enhancement (LGE) and infarct size. Following the completion of the exam, the AICD was interrogated and reprogrammed back to normal mode. The patient tolerated the procedure well without complication. The images below demonstrate marked thinning of the inferior wall with diffuse and uniform LGE compatible with a prior infarction and resultant scarring.
Cardiac MRI gives accurate information about the pumping function of the heart. It calculates left ventricular chamber dimensions in systole, when the heart muscle contracts, and in diastole, when the heart muscle relaxes. The resulting ejection fraction is calculated and can be used over time to follow the progression of heart disease and the prognosis of the patient. In our patient, there is segmental akinesis of the inferior wall with LV dilatation and global hypokinesis. The ejection fraction measured 39%.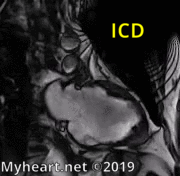 The 4 chamber view displays the heart function and the ICD lead can be seen in the right ventricle.
Our second patient does not have a coronary disease but has severe hypertension and diabetes. Her cardiac MRI shows LV dilatation with global hypokinesis. There is uniform myocardial wall thinning without segmental areas of hypertrophy. There are no areas of LGE or myocardial scarring which is consistent with non-ischemic cardiomyopathy. The ejection fraction was calculated at 28%.
Who needs a cardiac MRI?
Patients can be referred for cardiac MRI for several reasons. It can be due to symptoms concerning for heart disease such as shortness of breath, chest pain, palpitations, dizziness or syncope. It may also be to monitor existing heart conditions such as valve problems or heart failure.
After a heart attack, cardiac MRI can measure the damage to the heart and evaluate the effect of therapy. It can also evaluate the effect of the heart attack on the heart function and how the patient will progress over time.
Patients with palpitations and arrhythmias such as PVC's or ventricular tachycardia can undergo a cardiac MRI to detect a scar or area of damage of the heart muscle and guide therapies for ablation.
What about measuring heart size for people with pacemaker defibrillators?
Cardiac MRI is also used to provide information regarding heart size. MRI allows for accurate measurement of the dimensions of the different chambers of the heart as well as the heart walls. We can derive the weight of the heart by calculation of LV mass. Serial imaging studies can depict remodeling of the heart after a heart attack. Some patients can develop an enlargement of the heart that can lead to congestive heart failure. The patient below underwent an MRI study a few weeks after a large anterior myocardial infarction. One year later, another MRI study demonstrated adverse remodeling and enlargement of the LV dimensions despite optimal medical therapy.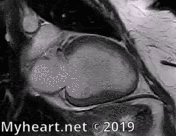 What about patients with pacemaker defibrillators and chest pain?
Chest pain can be caused by several different conditions which can be assessed by cardiac MRI. If blockage of a coronary artery is suspected, cardiac MRI can show abnormalities in the wall of the heart supplied by those arteries. The wall motion abnormalities can be depicted accurately and with high-resolution imaging. The effect of medical therapies can be evaluated before and after treatment such as in the case of stem cell treatment after a Non-STEMI heart attack.
When used with a contrast agent called gadolinium and adenosine, MR myocardial perfusion imaging can detect significant or critical coronary stenosis with a sensitivity of 89%.
A negative cardiac MRI perfusion scan indicates a very good outcome with a cardiac event rate of less than 1% over the next 3 years following the exam.
Other causes of chest pain include pericarditis. The inflammation around the heart may lead to the accumulation of fluid around the heart.
Chest pain radiating to the back can evoke the diagnosis of aortic dissection which can be detected by cardiac MRI. First, a CT angiogram depicts an image of a dissection involving the descending aorta. It is followed by an MRI demonstrating the tear in the aorta on the same patient.
How do cardiac MRI scans in patients with pacemaker defibrillators show heart valve function?
Cardiac MRI shows the structure and function of the 4 valves of the heart: the aortic valve, the mitral valve, the tricuspid valve, and the pulmonic valve. Cardiac MRI depicts leakages of the valves and can be used to monitor the size and function of the heart over time and guide intervention such as valve replacement or mitral clip. Below is a patient with mild cardiomyopathy and mild to a moderate mitral insufficiency followed by a patient showing moderate aortic insufficiency with a jet projecting on to the mitral valve.