So-called "sugary drinks" generally refer to beverages containing added sugars (sucrose, corn syrup, juice concentrates, or other sweeteners) such as soft drinks, fruit punches, energy drinks, or even sports drinks. These beverages are the main source of simple sugar in the diet of North Americans and a significant proportion of calories consumed daily, especially among teenagers and young adults. In the United States, for example, sugary drinks account for an average of 9.3% of calories among young men and 8.2% among young women. This is huge, especially considering that the World Health Organization recommends limiting the total daily energy intake of added sugars to a maximum of 10% of calories, or 50 g of sugar.
This 10% limit is based on a large number of studies showing that a high intake of added sugars promotes overweight and increases the risk of type 2 diabetes, coronary heart disease, and stroke. The negative impact on cardiovascular health is of particular concern, as a recent study has shown that regular consumption of soft drinks for several years is associated with an increased risk of premature mortality of around 20%, mainly as a result of cardiovascular disease.
Traditionally, 100% pure fruit juices are not included in the sugary drinks category as the sugar they contain is of natural origin and not artificially added. However, fruit juice sugar is identical to that of artificially sweetened drinks (glucose and fructose) and is present in quite comparable amounts (Figure 1). It is, therefore, possible that fruit juices, even when 100% pure, may cause the same adverse effects as other sugary drinks when consumed in large quantities.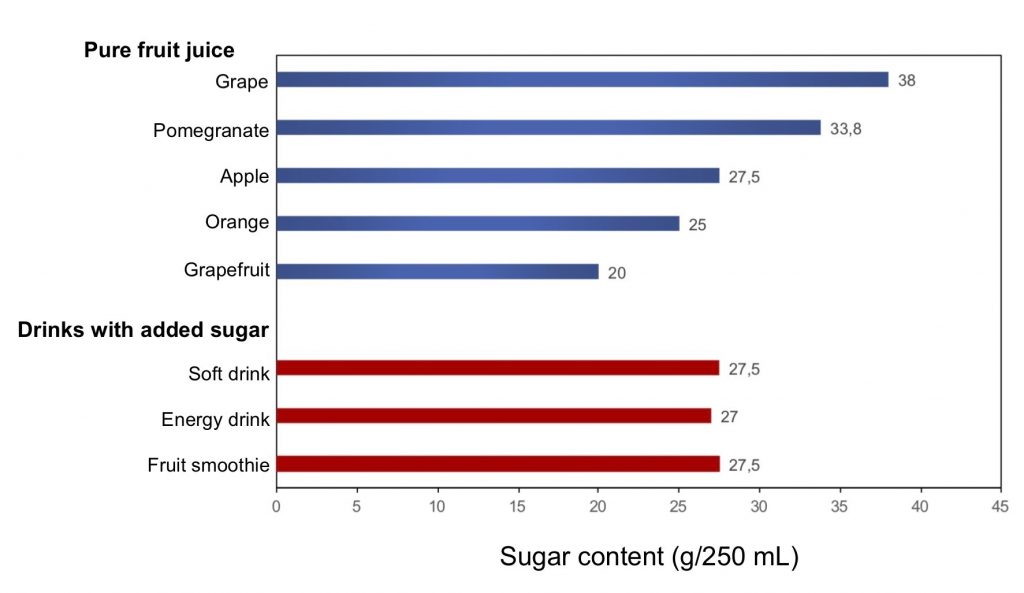 This possibility has recently been explored by an analysis of the link between the consumption of sugary drinks and pure fruit juice and the risk of premature death. Looking at the eating habits of 13,440 participants, the researchers found that people who drank a lot of sugary drinks including pure fruit juice (10% or more of daily calories) were 44% more likely to die prematurely from coronary artery disease compared to people who limit the consumption of these drinks to less than 5% of daily calories. When the types of sugary drinks were analyzed separately, the increased risk of coronary death is 11% for each serving of 355 mL of sweetened beverages and 24% for each 355 mL of pure juice consumed. It should be noted, however, that the small number of deaths associated with coronary heart disease in the study does not support the conclusion that fruit juices are more harmful than other sugary drinks at these levels. Certainly, however, it seems that pure juices, when consumed in large quantities, can greatly contribute to the rise in premature death caused by sugary drinks. These results strengthen the case of the growing number of people for whom fruit juices, even when 100% pure, are sugary drinks in the same category as the others and should, therefore, be totally eliminated from the diet.
A Question of Quantity
However, it should be noted that the negative effect of fruit juices on the risk of premature mortality is observed for fairly large quantities of juice, well above the quantities that are generally recommended (150 mL per day). At these more moderate amounts, the effect of fruit juice on health is much more nuanced: a review of the studies carried out to date shows that the consumption of reasonable quantities of fruit juice, i.e., a serving of 150–240 mL a day, has little effect on weight gain, both in adults (gain of about 0.2 kg over 3–4 years) and children (very slight increase in the BMI-z score, i.e., the body mass index of children adjusted for sex and age) (Table 1). These increases are significantly lower than those observed for sugary drinks such as soft drinks: for example, a study showed that each serving of soft drink consumed daily causes an increase in body weight of about 1 kg over a period of 4 years, three times more than the one associated with the consumption of a daily serving of pure fruit juice (0.3 kg).
Table 1. Health effects of consumption of pure fruit juices. Adapted from Auerbach et al. (2018).
| Outcome | | Population | Subjects | Amounts consumed | Results | Study |
| --- | --- | --- | --- | --- | --- | --- |
| Tooth decay | | Children | 1,919 | ≥1 serving*/d vs. ≤1 serving/week | 20% increase in risk | Salas et al. (2015) |
| Weight gain | | Adults | 108,708 | Each additional serving/day | Gain of 0.22 kg over 4 years | Hebden et al. (2015) |
| | | Children | 20,639 | Consumption vs. no consumption | No association | O'Neil and Nicklas (2008) |
| | | Children | 34,470 | Each additional serving/day | BMI z score** change of 0.09 U over 1 year (0.03, 0.17 U) in children 1–6 y and no change in children 7–18 y | Auerbach et al. (2017) |
| | | Adults | 49,108 | For each serving/day | Gain of 0.18 kg over 3 years | Auerbach et al. (2018) |
| Cardiovascular diseases | | Adults | 114,279 | Each additional serving/d of 100% citrus juice | 28% decrease in risk of ischemic stroke | Joshipura et al. (2009) |
| | | Adults | 54,383 | Highest vs. lowest consumers | 15% decrease in the risk of acute coronary syndromes | Hansen et al. (2010) |
| | | Adults | 109,635 | For each serving/day (citrus juice) | No significant effect | Hung et al. (2004) |
| | | Adults | 34,560 | 1–7 servings (150 mL)/week | 17% decrease in risk of cardiovascular disease (24% risk of stroke) | Scheffers et al. (2019) |
| Type 2 diabetes | | Adults | 137,663 | Highest vs. lowest consumers | 3% increase in risk | Xi et al. (2014) |
| | | Adults | 440,937 | Each additional serving/day | 7% increase in risk | Imamura et al. (2015) |
| | | Adults | 120,877 | ≥1 serving/day vs. ≤1 serving/month | No effect | Schulze et al. (2004) |
* 240 mL serving; ** "BMI-z" (Body mass index z-score) is a relative measure of weight, adjusted for age and sex of the child.
A marked difference in the risk of developing type 2 diabetes has also been observed between artificially sweetened beverages and pure fruit juices. For example, one study found that daily consumption of soft drinks or fruit punches with added sugars caused an approximately two-fold increase in the risk of diabetes, while that of fruit juice had no impact (Figure 2). A meta-analysis of 4 studies reported similar results, i.e., fruit drinks containing added sugars increased the risk of diabetes while consumption of pure fruit juices had no effect. It should be noted, however, that other studies have reported a slight increase in the risk of diabetes in people consuming 240 mL and more per day of fruit juice (see Table 1).
The effect of moderate amounts of pure fruit juice is particularly interesting with regard to cardiovascular health. It has long been known that people who eat a lot of fruits are less likely to be affected by cardiovascular disease. These benefits are due, at least in part, to the high fruit content of polyphenols (including flavonoids) that prevent the oxidation of LDL cholesterol and prevent the development of atherosclerotic plaques. Since these polyphenols are extracted during fruit pressing and are therefore present in pure fruit juices, it is possible that these juices may also have positive effects on cardiovascular health. This has recently been highlighted by a study in the Netherlands among 34,560 participants aged 20 to 69 (EPIC-NL study). The researchers found that people who regularly consumed small amounts of pure fruit juice (150 mL daily, 7 days a week) were 17% less likely to be affected by cardiovascular disease, especially stroke (24% less risk). However, these protective effects disappeared at higher amounts of juice (> 8 glasses of pure juice per week), suggesting that the window of consumption associated with these preventive effects is relatively narrow. Decreases in the risk of ischemic stroke and acute coronary events following the consumption of pure fruit juice have also been reported. It is also interesting to note that a study recently reported that people who consumed 150 mL of orange juice every day had half the risk of cognitive decline compared to those who rarely consumed it (once a month).
It is, therefore, possible that the different molecules present in fruit juices (vitamins, minerals, polyphenols) in some way counteract the negative effects of high amounts of sugar by reducing oxidative stress and chronic inflammation, two phenomena involved in the development of cardiovascular and neurodegenerative diseases. In any event, these observations suggest that it is clearly an exaggeration to say that pure fruit juices, in small quantities, are as harmful to health as beverages containing added sugars. It is only in high quantities that pure fruit juice becomes a sugary drink like any other and can cause the many health problems that are associated with excess sugar.
That being said, everyone agrees that the best way to consume fruits is in their whole form. In addition to the different bioactive compounds that are present in juices, whole fruits also contain fibres that increase the feeling of satiety (which reduces the amount of sugar ingested), prevent excessive fluctuations in blood sugar, and contribute to the maintenance of a diversified intestinal microbiome. Ideally, we should, therefore, favour the consumption of fresh fruits and drink water rather than juice to quench our thirst.
However, for people who may have difficult access to fresh fruit or prefer to consume it in a liquid form, the studies mentioned earlier suggest that pure fruit juice may be a valid alternative, but only when consumed in moderate amounts, around a small glass (150 mL) a day. At these amounts, juices significantly contribute to the daily intake of vitamins and minerals, and studies to date suggest a positive impact on the prevention of cardiovascular disease, especially stroke. It also appears that a moderate intake of pure juices does not have a major impact on the risk of overweight and diabetes, including in young children, confirming the validity of the recommendations of the American Academy of Pediatrics to limit the consumption of pure juice to 150 mL per day.
Find this article and more from Dr. Juneau at Prevention Watch of the Montreal Heart Institute!