Can stem cells help improve heart muscle in patients with congestive heart failure?
The use of stem cells in the treatment of heart failure cases is currently being investigated. Cardiovascular disease is the # 1 killer in the United States accounting for one third of all deaths. Heart disease kills more people than cancer, HIV, diabetes or trauma. Many advances in medical and surgical treatment of heart disease have contributed to a growing number of patients in their 70s and 80s with congestive heart failure. An estimated 1% of the Western world has congestive heart failure, including over 5 million Americans with an additional 550,000 new cases each year. Patients with advanced heart failure who require hospitalization, have a 50% mortality within the first five years.
The patients with significant coronary artery disease can sometimes undergo coronary artery bypass surgery or percutaneous coronary intervention to open up blocked arteries. Below is an example of a patient evaluated for heart failure and was found to have severe coronary disease. He later underwent bypass surgery.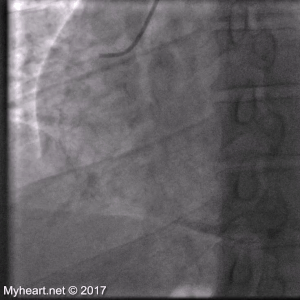 In addition, current medical treatment of patients with congestive heart failure include proven beneficial medicine such as beta-blockers, ACE inhibitors, angiotensin II receptor blockers, angiotensin II receptor blocker Neprilysin inhibitors and diuretics. When appropriate, resynchronization of the right and left ventricles can be accomplished with special types of pacemaker and can be combined with a defibrillator (BiV-ICD). However, even after following all of these guideline proven therapies, some patients still run out of options and continue to have severe and debilitating congestive heart failure. Below is an example of a patient with severe heart failure symptoms despite having normal coronaries and a BiV-ICD.

Heart transplant is a last resort for end stage heart disease. There is a very low number of donor hearts and transplant programs have very restricted eligibility criteria leaving a large number patients with very few options.
Are stem cells in the treatment of heart failure just a dream?
There are reasons to believe that regenerative therapy could really help patients with congestive heart failure. Multi-potent cardiac stem cells exist in the heart and participate in the normal turnover of heart muscle cells and small blood vessels. A heart attack kills heart muscle which is made of millions of heart cells. The question is: Would regenerative therapy be able to replace those heart cells or cardiac myocytes?
Thousands of patients have been enrolled in clinical trials to address this question. Regenerative or stem cell therapy has been shown to be safe. Modest benefits have been demonstrated but the mechanism has not been completely elucidated. So far, there is no evidence that cells regenerate from the transplanted stem cells. Animal studies have shown that only 1% of the stem cells injected into the heart tissue are detectable after 1 month. The clinical benefits observed appeared to be due to a release of growth factors which triggers endogenous repair of the heart cells and inhibits cell death and fibrosis resulting in increased performance of the heart muscle.
Type of stem cells used in Dream-HF
Adult stem cells derived from the bone marrow of healthy young donors have been used in clinical trials of heart failure. In the Dream-HF clinical trial, we are using immuno-selected mesenchymal stem cells from healthy adult allogeneic donors. The cells are obtained from their bone marrow, expanded in a manufacturing facility and are cryopreserved until use. These cells are shipped to clinical sites and used for the study.
Are stem cells in the treatment of heart failure safe?
Allogeneic mesenchymal stem cells have been evaluated in multiple nonclinical and clinical studies, several of which were initiated by Mesoblast, the phase 3 study sponsor. Therapeutic indications under evaluation included heart failure, myocardial infarction, rheumatoid arthritis and graft versus host disease. Currently, results from clinical studies suggest that allogeneic stem cells are generally well tolerated. Moreover, in a phase 2 study of patients with heart failure, mesenchymal precursor cell therapy was associated with improvement in reduction in heart failure hospitalization events and improvements in functional exercise capacity.
Recently, the FDA granted Mesoblast the designation of Regenerative Medicine Advance Therapy (RMAT) for its novel mesenchymal precursor cell (MPC) therapy in the treatment of heart failure patients with left ventricular systolic dysfunction and left ventricular assist devices (LVADs). This allows for multi-disciplinary, comprehensive interactions with the FDA to support efficient development of mesenchymal stem cell treatment of patients with advanced heart failure. This was based on the multi-center, double-blind, sham-procedure controlled trial of 30 patients to intramyocardial injection of 25 M MPCs or medium during LVAD implantation that was conducted by Ascheim et al. Successful temporary LVAD weaning was achieved in 50% of MPC and 20% of control patients at 90 days. The probability that MPCs increased the likelihood of successful weaning was 93%. A phase 2b trial of MPCs at dose of 150 M cells is currently being conducted in 159 patients with heart failure and LVADs and primary endpoint should be reached in 2018.
How are the stem cells in the treatment of heart failure given in the Dream-HF study?
Stem cells from healthy normal volunteers are administered as a 1 time dose of 150 million cells. Myocardial locations are defined within the left ventricle by Left Ventriculogram (LV-gram) imaging and electromechanical mapping as viable for cell delivery. Below is a left ventriculogram of one of our patient enrolled in the study.
The cells are administered via a trans-endocardial injection at 15-20 sites inside the heart cavity using a Myostar injection catheter and a NOGA cardiac mapping system. Dr Mendelsohn is the interventional cardiologist performing the injections at BBH Princeton hospital. Only he knows which patients received the stem cells, and he doesn't follow them. The other heart failure specialists follow the patients in the research clinic.
The patients that are injected with stem cells are compared to a group of patient who undergo a Sham or placebo treatment. The treatment arm is not known to the patient or to the heart failure specialist such as myself. This is the only way to find out whether the treatment with stem cells really works. All the patients will be followed by their study team and will be monitored for the clinical effects of stem-cell treatment in patients with congestive heart failure.
Here is an example of a patient with a large antero-apical scar, represented in red on the NOGA map . The viable areas are depicted in green and represent an ideal zone for stem cell injections.


The NOGA maps above display the electrical and mechanical activities of the left ventricle in a patient with non ischemic cardiomyopathy on the left panels and a patient with a large myocardial scar represented in red on the panels to the right.
A patient's journey:
No matter how many cases of congestive heart failure we treat, I am still captivated by each and every person's story. One such patient, is a young lady that was treated for heart failure and had a defibrillator placed in 2009. She sought our help and was inquiring about stem cell treatment for her heart. She was only in her early 40's and was desperate to try something new. She was on maximal medical therapy and did not qualify at that time because she was stable. In 2015 however, a clinical deterioration lead to several cardiac procedures including ablation of ventricular arrhythmias and an upgrade of her pacemaker/defibrillator. I thought we were going to lose her. At some point, she was going into incessant ventricular tachycardias and required several prolonged hospitalizations. We referred her to a transplant center and she was evaluated by the transplant team. At the same time, she enrolled in our stem cell research Dream-HF program at the end of 2015. Because she is still part of the research study, I am not sure whether she received stem cells or not. She is amongst one of the many patients that are participating in a stem cell research program that is evaluating cutting edge technology in heart failure. The Dream-HF study is still enrolling patients with chronic systolic heart failure of either ischemic or nonischemic etiology.
If you like the information in this article, make sure you read: Can heart attack damage be reversed? Stem cells in the treatment of a heart attack: a non-STEMI