What is a stroke?
A stroke is a medical emergency. It is similar to a heart attack for the brain. It occurs when the flow of blood to the brain is interrupted, resulting in oxygen starvation to the brain cells which can no longer perform their task whether it is memory, vision or muscle control. The severity of the stroke depends on where the stroke occurs in the brain and how much damage there is. A small stroke can cause a transient and mild weakness of the right hand like in this example where a small area of blurring between the cortex and the white matter on the left side of his brain as displayed on this non-enhanced CT image.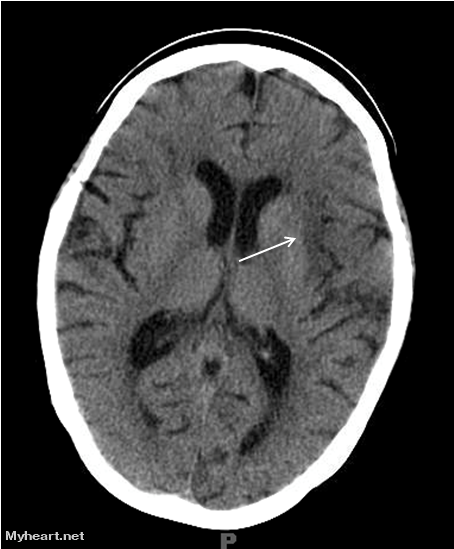 A large stroke can cause a permanent paralysis like in this example of a patient with an occluded right middle cerebral artery and extensive hypodense area of the right hemisphere of the brain on CT images with a resulting paralysis of the whole left side of his body.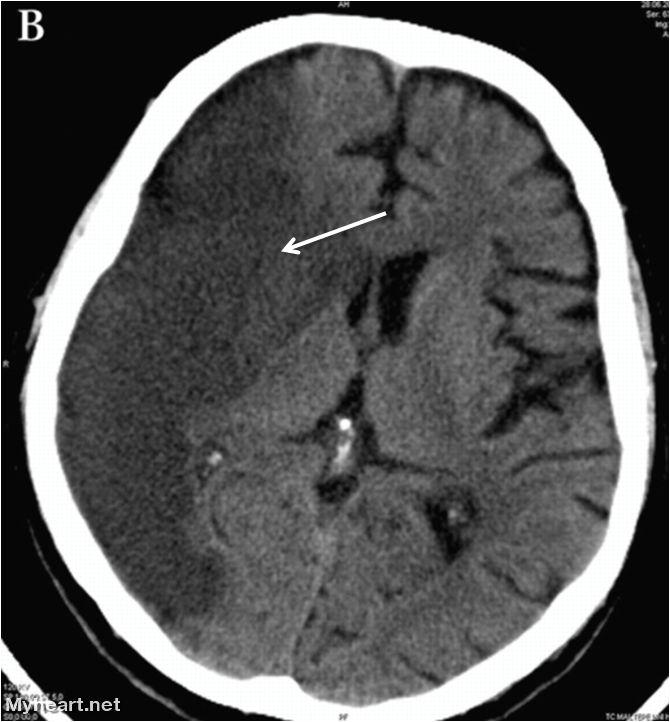 How do you recognize a stroke?
The most common manifestations of a stroke are:
Facial drooping
Arm weakness
Slurred speech
Sudden numbness or weakness of face, arm or leg, especially on one side of the body
Sudden confusion, trouble speaking or understanding speech
Trouble seeing in one or both eyes
Trouble walking, loss of balance or dizziness
Sudden severe headache, vomiting and altered consciousness are more common in hemorrhagic or large strokes.
Two types of strokes:
1. Ischemic stroke:
Ischemic stroke can be thrombotic when a blood clot forms inside the artery of the brain and cuts off the blood supply. This type of stroke occurs mostly in patients with high cholesterol and atherosclerosis and implicates large arteries. Patients with hypertension also develop thrombotic strokes but frequently in smaller arteries resulting in "lacunar" infarcts and involved a deeper part of the brain where all the nerve fibers join (internal capsule) before reaching the brainstem and spine. Ischemic strokes can also be embolic, meaning a blood clot or a cholesterol plaque from somewhere in the body (carotid artery in the neck, aorta or the heart) travels to the brain and blocks the artery in the brain. Ischemic strokes account for the majority of strokes.
2. Hemorrhagic strokes:
Hemorrhagic strokes account for only 15% of strokes but they are deadly and account for over 40% of mortality. It occurs when a brain aneurysm ruptures or a weak blood vessel leaks with blood spilling into the brain. This results in swelling of the brain, increased pressure inside the skull and damage of the brain cells. Below are CT images of a patient with a lobar hemorrhage.
How do you treat a stroke?
A stroke is an emergency and you should call 911! "Time is brain" and an earlier treatment will minimize the effect of the stroke and improve outcome. Approximately 2 million neurons or brain cells are lost each minute when a major artery such as the middle cerebral artery is occluded.
There are four important questions to know when treating a stroke patient:
Is there an intracranial bleed (or something mimicking a stroke)?
Is there a large blood vessel occluded?
Is there a part of the brain irreversibly injured?
Is there a part of the brain that can be salvaged but at risk (the penumbra)?
It is important that when the present to the Emergency Room, "Code Stroke" is initiated and a CT of the head is performed within 25 minutes of arrival. After rapid interpretation of the brain scan and if no contraindations, intravenous thrombolytic tPA is started within 3-4.5 hours of symptoms onset. Hospitals strive to start this lifesaving blood thinner within 60 minutes of presentation.
At BMC Princeton, Dr William Gallmann has implemented a stroke imaging protocol:
For tPA Eligible patients:
non contrast CT brain
if no hemorrhage and tPA eligible, tPA is administered in the radiology department
proceed with CT Perfusion, CTA head/neck while tPA is infusing
For tPA Non Eligible (bleed or tumor/abcess)
non contrast CT brain

proceed with CT perfusion,CTA head and neck unless hemorrhage
Early ischemic changes by CT can appear as blurring an indistinctness of gray-white matter like in the first picture shown earlier. It can be seen in 50-70% of cases within the first 3 hrs. Occasionally a wedge shaped hypodense area in the brain can be seen as well.
Growing evidence supports a physiologic rather than a purely time based approach where patients with viable brain tissue may benefit from reperfusion, even in patients that present after 6 hrs. Wake-up strokes, strokes with unclear onset time and witnessed late presenting strokes represent almost 50% of patients presenting in the Emergency Room. This is the reason that CT perfusion is so important and can differentiate the area of the brain that is permanently damaged and the area that is still viable but ischemic, known as the penumbra.

At St Vincent's hospital like at Princeton, a perfusion CT scan is obtained when patients present with a stroke. Perfusion CT imaging is a rapid dynamic imaging of the brain following usually approximately 40 cc of radio-iodine contrast. The axial scans are repeated approximately every 2 sec for 68 sec. It allows for quantification of different parameters such as cerebral blood flow and volume, transit time of the contrast and time to peak. From this data acquisition, we can derive the infarct core or permanently damaged area of the brain, the ischemic zone or penumbra and the area surrounding it that is not receiving enough blood flow. The latter area is composed of brain cells that can be salvaged. The Rapid software was developed at Stanford and allows for quicker, more quantifiable post processing maps and delineation of penumbra.
The following patient is a 55 yo male presenting with left sided weakness and slurred speech beginning 6 hrs prior to admission. The first CT image shows blurring between the cortex and the white matter in the distribution of the MCA.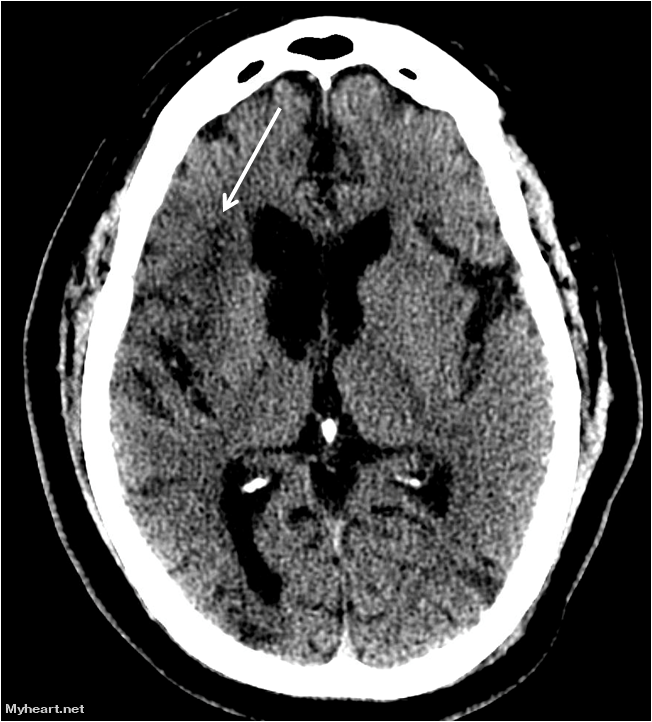 The CTA of the head shows an occlusion of the middle cerebral artery.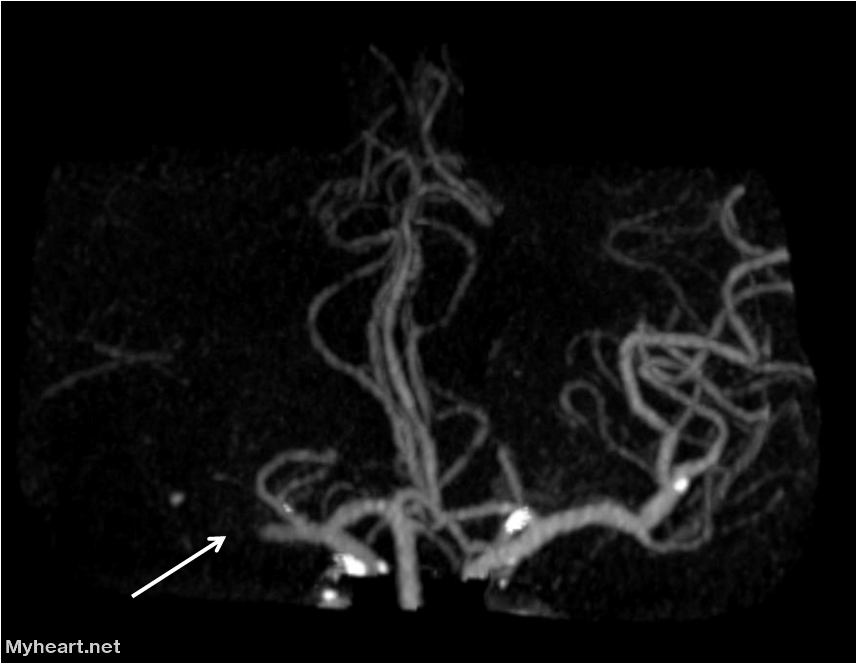 The Rapid Mismatch profile on the perfusion image shows the infarct core (magenta) and the surrounding penumbra or ischemic zone in green. Unfortunately the core infarct was too large to receive a mechanical thrombectomy.
CTA or CT Angiography can provide useful and timely information for detection of the thrombus and degree of stenosis. The picture below demonstrates an occlusion of the right internal carotid artery.
In specialized centers, thrombectomy can be performed to dissolve or remove the clot obstructing the artery in the brain. This procedure is associated with improved clinical outcomes. In the DAWN study, for every 100 patients treated with endovascular therapy, 49 had less disabled outcome and 36 were rendered functionally independent. A critical mismatch on the perfusion images predicts the treatment effect independent of time to presentation. The thrombectomy window has recently been increased from 6hrs to 16-24 hrs in certain patients.
We would like to thank Dr William Gallmann for his assistance with reviewing this article and providing the CT scan images. We also acknowledge the help of Jay Robertson at Myheart.net for his invaluable technical expertise.
Comments are purely for informational purposes and are not intended to be a substitute for professional medical advice, diagnosis, or treatment. Always seek the advice of your physician or other qualified health provider with any questions you may have regarding a medical condition. Disclaimer