Surviving a heart attack: what does it mean for a patient to have survived a non-STEMI? Non-STEMI or Non-ST elevation Myocardial Infarction is the dominant presentation of acute coronary syndrome.  This occurs when the blood supplied to the heart muscle is suddenly blocked. Other presentations include unstable angina and STEMI or ST-Elevation Myocardial Infarction. Patients presenting with symptoms of chest pain with or without accompanying symptoms of shortness of breath, profuse sweating, nausea or syncope, and have evidence of myocardial necrosis (elevation of cardiac enzyme: troponin) with absence of ST elevation are considered to have a Non-STEMI. ST segment depression, transient ST elevation or deep T-wave inversion on the electrocardiogram may be present but are not necessary. This was well described by my colleague Dr Mustafa Ahmed in the article on NSTEMI?
SURVIVING A HEART ATTACK: What is the problem with Non-STEMI?
Each year, it is estimated that almost 800,000 patients will experience an acute coronary syndrome of which 70% will have a Non-STEMI.  Trends from the world data base of patients with acute coronary syndrome show that the percentage of patients with Non-STEMI is rising dramatically.  Acute coronary syndrome is caused by plaque rupture or erosion with different degrees of superimposed thrombus or clot resulting in a decreased blood flow to the heart muscle. In most cases, the damage to the heart muscle is limited to the most inner layers of the myocardium and for this reason a Non-STEMI is called a minor or small heart attack.  However, patients with Non-STEMI have more comorbidities, both cardiac and noncardiac. The patients are older (median age of 68), and they more often have had a previous MI, congestive heart failure, atrial fibrillation, diabetes and abnormal kidney function. The in-hospital mortality of Non-STEMI and STEMI is similar ( approx. 4%) but by 12 months, patients with Non-STEMI have an increased risk of myocardial infarction, death and recurrent instability. Early events are related to recurrent plaque rupture and thrombus and late events are closely related to left ventricular dysfunction and heart failure.
SURVIVING A HEART ATTACK: What is the treatment of a Non-STEMI?
Upon presentation, the clinical history, angina symptoms and equivalents, physical exam, ECG, renal function and cardiac troponin can be integrated into an estimation of the risk of death and complications of ischemic events. The patient with a high risk, continuing chest pain, hemodynamic instability (decrease in blood pressure or worsening heart failure) and uncontrolled arrhythmias (such as ventricular tachycardia) should be treated with anticoagulants, antiplatelets and treated with an invasive approach where the patient is taken to the cath lab for percutanous coronary intervention and coronary stenting if appropriate. Below is an example of a patient with Non-STEMI that was treated with coronary angioplasty and stenting of the circumflex artery. Notice that he had also a chronic occlusion of his right coronary artery with collaterals originating from the same circumflex artery. The area of ischemia was very significant.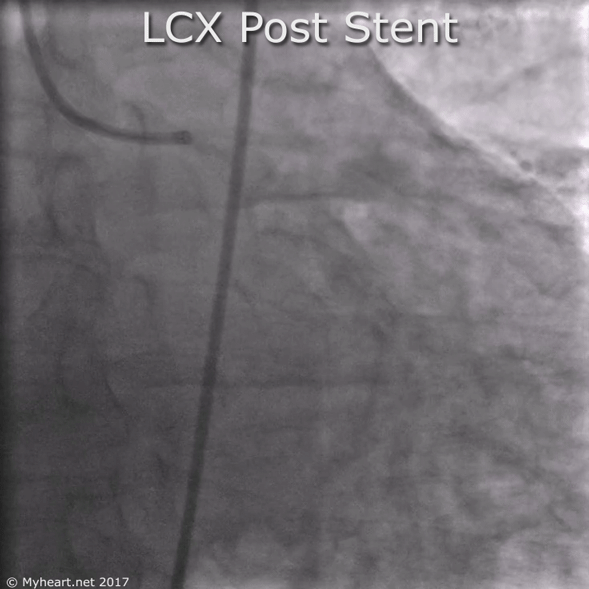 Medications required in hospital for control of angina should be continued after hospital discharge. This may include nitrates, beta blockers, calcium antagonists and antiplatelets such as aspirin, clopidogrel, prasugrel or ticagrilor. Patients with heart failure should be treated with angiotensin converting enzyme inhibitors or angiotensin receptor blockers. These medications will help preserve the left ventricular function and prevent further decompensation of their heart failure. Patients should be treated with appropriate cholesterol management including statin, blood pressure control, smoking cessation and lifestyle changes.
SURVIVING A HEART ATTACK: Is there a role for STEM CELLS in the treatment of a Non-STEMI?
During the Non-STEMI, prolonged ischemia causes myocardial cell death and progressive loss of heart muscle and contractile tissue. Cardiac cells possess minimal ability to regenerate themselves. The myocardial cells are replaced by scar tissue. Subsequently, these changes lead to left ventricular remodeling resulting in an enlargement of the heart and development of heart failure. The goal of stem cell therapy for subjects with a Non-STEMI is to improve cardiac function in an attempt to decrease the development and onset of congestive heart failure.
Multistem® is a multipotent adult progenitor cell product developped by Athersys, Inc. (Cleveland, Ohio). The stem cells are isolated from human bone marrow. The stem cell cultures can be expanded and used off the shelf for treatment of a variety of disease including myocardial infarction. Preclinical data of myocardial infarction demonstrated an improvement of left ventricular function 2-6 weeks post cell injection. Additionally, there was a significant increase in blood vessel around the infarct zone. In the phase 1 clinical trial, 19 patients were given a Multistem® intracoronary injection 2-3 days after their heart attack. All the patients studied had a STEMI. One of those patients was described in our previous article: "Surviving a heart attack: the big one". Not only did he have an improvement of his heart function, but he had developed collaterals that prevented him from having further damage to his heart when his "widowmaker" proximal LAD reoccluded five years later. Patients that were treated with the higher dose of Multistem® had a 25% improvement of left ventricular function measured by echo at 4 months post treatment over baseline. These changes persisted at 1 year with an increase of 11% over baseline. Below is another example of a patient that underwent Multistem® injection in 2009. Fifty million stem cell dose were injected through the right coronary artery 3 days after presentation with an inferior STEMI and PCI with coronary stenting of his coronary artery (RCA).
Surviving a Non-STEMI heart attack: a patient's journey:
We are currently participating in a phase II prospective, randomized, double-blind, sham-controlled, multi-center clinical trial designed to assess the safety of AMI Multistem® in patients with Non-STEMI. Dr Farrell Mendelsohn is the principal investigator at BBH Princeton. Patients are randomized and treated no later than 3 days after their myocardial infarction.  One of our patient had his first heart attack at the age of 26. Two years later he had his second heart attack. He had a lot of stress in his life, going through a divorce. Four months prior to his third heart attack, his ex-wife was killed in a car accident and he became solely responsible for the care and well-being of his seven year old daughter. He realized that he had to get better for his daughter. So when Dr Hutton Brantley, one of our investigators, approached him about participating in the AMI Multistem® trial, he did not hesitate! The AMI Multistem® trial is currently enrolling patients with Non-STEMI across the United States. If you would like more information, please refer  to clinicaltrials.gov.