Points to Remember:
– Stress cardiomyopathy or Takotsubo was initially regarded as benign but can be associated with severe clinical complications including death.
– Most common symptoms include chest pain and shortness of breath similar to a heart attack.
– 5 – 6% of female present with suspected STEMI.
– Women are frequently affected by emotional stress such as death of a loved one.
– The most common type is apical ballooning of the left ventricle.
– More frequent during summer months.
Why do we associate women with stress cardiomyopathy or Takotsubo?
Stress can be positive and can trigger hormonal changes within the body that can help with performing a task. This so-called "fight or flight" response evokes a survival mechanism enabling people to react quickly to a stressful or sometimes life-threatening situation.
When stress is experienced over a repeated and prolonged period of time, it can have physical and psychological repercussions. Chronic stress contributes to high blood pressure, atherosclerosis, and the formation of dangerous plaques in the coronary arteries that cause heart attacks and changes in the brain that can produce anxiety and depression.
Experts feel that women are more susceptible to stress and are more prone to develop a stress cardiomyopathy or Takotsubo. Physiological and hormonal changes associated with menstruation, pregnancy, and menopause can alter the vulnerability to stress and depression. In addition, societal pressures for women to adopt the many roles of wife, mother, caretaker, and administrator of the household on top of holding a full-time job and become leaders in their field have left very little time for women to spend taking care of their own physical and emotional needs.
Stress can activate the brain with a spillover of hormones such as catecholamines that can cause a direct toxic effect on the heart muscle and/or vascular dysfunction at the microvascular level.
Women and stress cardiomyopathy or Takotsubo
Our first patient is a 57-year-old female smoker with HTN, diabetes mellitus, hyperlipidemia, anxiety, and bipolar depression who presented in the emergency room with chest pain and fatigue. The patient had been dealing with financial difficulties all year. The symptoms of chest pain started 1 week prior to presentation. On the morning of admission, she developed severe, non-radiating chest pain associated with profuse sweating. The pain was located in the center of her chest and was partially relieved with nitroglycerin. Her ECG showed nonspecific changes, and troponin was slightly abnormal at 0.79. The patient was admitted to the hospital, and because of the persistence of the pain, she was taken to the cath lab. Cardiac catheterization revealed the classic finding of stress cardiomyopathy (or Takotsubo) and normal coronary arteries.
Twenty-four hours later, the patient was experiencing mild and pleuretic chest pain. The echocardiogram showed left ventricular hypertrophy and complete resolution of the wall motion.
She was treated with angiotensin receptor and beta blockers. The ECG displayed new T-wave inversion and an increase in the QT interval at 508 msec.
This complicated the anti-depressive medical treatment as her medication could further increase the QT and cause serious and lethal arrhythmias. The Venlafaxine (Effexor) was reduced, and a follow up with the psychiatrist was made to change her treatment. Her heart function had totally returned to normal.
A follow-up MRI cardiac imaging one week later revealed left ventricular hypertrophy with apical variant, normal wall motion, ejection fraction of 86%, and absence of Late Gadolinium Enhancement (LGE) or fibrosis.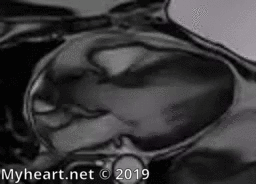 Clinical features of stress cardiomyopathy (or Takotsubo) in women
Stress cardiomyopathy or Takotsubo is a clinical syndrome presenting as acute chest pain, mimicking a heart attack, and characterized by transient left ventricular dysfunction (systolic or diastolic), often related to emotional or physical stress.
Stress cardiomyopathy or Takotsubo represents approximately 1-2 % of patients presenting as suspected coronary syndrome. Cohort studies suggest an incidence of 15-30 cases per 100,000 per year in the US alone. Registries revealed at least 90% are post-menopausal women. Emotional triggers can consist of financial stress or the death of a loved one. Physical stresses include acute critical illness, surgery, asthma or COPD exacerbation, stroke, or seizure. Marijuana or cannabis is a recognized risk factor and increases the risk of cardiac arrest.
The majority of stress cardiomyopathy or Takotsubo patients present with chest pain (75%), shortness of breath or dizziness (50%), or passing out (5-10%). Approximately 40% of patients can present with ECG revealing the presence of ST elevation similar to STEMI heart attacks. Most patients present with ischemic ECG changes with deep T wave inversion and prolonged QT interval 24-48 hrs after the onset of symptoms similar to our first patient. Patients with QT prolongation are at increased risk for ventricular tachycardia and ventricular fibrillation and should be monitored for 48-72 hrs. Medications such as anti-depressive drugs can prolong the QT interval and should be modified or replaced when possible. Ninety percent of the Takotsubo patients have a mild elevation of troponin.
Clinical course and treatment of women with stress cardiomyopathy (or Takotsubo)
The distinctive feature of ballooning of the heart extends beyond the region supplied by the coronary artery. Coronary angiography is performed to rule out significant coronary disease. In most patients with stress cardiomyopathy (or Takotsubo), the coronaries are normal or have minimal disease and the LV gram reveals a ballooning of the tip of the heart while the base of the heart works overtime (seen in over 80% of patients). Most patients recover within a few weeks to a few months. Our first patient recovered her LV function within 24 hrs.
Our second patient is a 75-year-old female wedding planner who experienced a lot of stress when her daughter divorced. She presented to the emergency room with nausea, vomiting, left-sided chest pain, and troponin elevated at 6. Cardiac cath revealed minimal coronary disease and the classic finding on the LV gram with EF at 25%.
She was treated initially with beta blockers and ace inhibitors. However, because of hypotension, she was continued on ace inhibitors only. One month later, the echocardiogram revealed complete normalization of the LV function. While most patients recover LV function within 3-6 months, some patients suffer from systolic heart failure during the acute phase. The in-hospital mortality remains high at 5% and is seen primarily in elderly, patients presenting with very low EF (<20%), high troponin elevation, involvement of the right ventricle, and patients experiencing physical stress such as an acute illness. Patients with prolonged QT intervals are at risk of developing significant arrhythmias such as Torsade de Pointe and ventricular fibrillation.
Treatment of heart failure is based primarily on the relief of congestion and hemodynamic support. Low dose beta blockers and/or ace inhibitors are usually prescribed before discharge and continued if tolerated. Although stress cardiomyopathy or Takotsubo is reversible, the syndrome can recur at a rate of 2-4% per year. A multidisciplinary approach is recommended to address psychological or psychiatric issues that persist and can contribute to recurrence and outcomes.
If you would like to learn more about heart disease in women or Takotsubo, you can click on these MyHeart.net articles: Why Women's Hearts are Different, or Broken Heart Syndrome. The American College of Cardiology discussed the key points to remember in Takotsubo syndrome in their latest review in 2018.