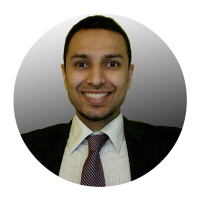 Mustafa Ahmed, MD, is a Structural Heart Specialist, Interventional Cardiologist and Scientist. He is the director of the Structural Heart Disease Program at the University of Alabama at Birmingham. He is a leading performer of minimally invasive heart procedures including the Mitraclip procedure, transcatheter aortic valve replacement (TAVR/TAVI), atrial septal defects, ventricular septal defects, paravalvular leak repair and other complex structural heart defects. He is credited with several first-of-their-kind procedures and internationally recognized in areas including valvular and surgical heart disease and POTS.
He was born in Nottingham, England, and went to medical school at the Victoria University of Manchester. After graduation, he took postgraduate positions at the prestigious Manchester Royal Infirmary, Manchester, then the Queens Medical Center, Nottingham. Dr Ahmed then moved to Birmingham, Alabama, where he was the first ever person selected for the highly competitive Physician Scientist Training Program with specialization in cardiology and interventional cardiology.
Dr Ahmed's worked on the landmark $18,000,000 SCCOR translational research grant mainly focused on heart valve disease, specifically mitral valve disease, and resistant hypertension. In addition to general training, he received clinical training from internationally renowned experts in valvular and surgical heart disease and resistant hypertension. He was also trained in advanced 3D echocardiography by Dr. Navin Nanda, MD, who is widely considered the worlds pre-eminent echocardiographer. His specialist training is in interventional cardiology with an emphasis on coronary and complex structural heart disease.
To date, Dr Ahmed has multiple ( > 80 ) scientific publications and (>20) awards. He was the lead author on the seminal paper demonstrating the effectiveness of beta-blockers in patients with mitral valve prolapse and regurgitation with his work credited with moving valvular heart disease in to the 21st century. He has authored numerous papers in leading journals regarding valve disease that have led to investigation of new treatments. Other areas include Management of Acute Pulmonary Embolism/Resistant Hypertension/Advanced 3D-Echocardiography/Translational Research/Patient Education.