What is Lactate Threshold?
If you are involved in training for endurance sports you may have come across the term lactate threshold (LT).  It has gained importance with trainers and athletes over the years and can be used as a method of determining training zones as well as gauging improvements in fitness.
The Lactate threshold is the intensity of exercise at which lactic acid, or lactate begins to accumulate within the blood.  During low level exercise the energy required can all be produced by utilising oxygen dependant mechanisms (aerobic) and this can continue indefinitely.  However as explained here, when the demand for energy outweighs the ability of the oxygen fuelled systems in the muscles to provide it, the cells react by switching to a non-oxygen requiring process (anaerobic) and one of the products of this reaction is lactate.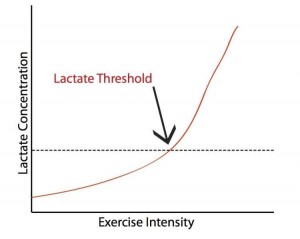 Up to a certain intensity the lactate produced can be dealt with in other parts of the body so the levels in the blood remain low, but at a certain intensity the body systems become overwhelmed and the lactate or lactic acid in the blood begins to accumulate.  This it the Lactate Threshold (LT).
The levels of lactic acid in the blood at different exercise intensities can easily be measured with blood samples.  There are various techniques to test the blood, each with differing accuracies.  These very from arterial blood (most accurate) to venous blood to capillary blood (least accurate).
Lactic acid threshold testing was initially used when it was commonly thought that lactate accumulation was the the cause of fatigue.  We have however already discussed that lactic acid is not responsible for muscle fatigue and that it is in fact protective against acidosis.
This does not make lactic acid threshold testing completely invalid.  Lactic acid seems to accumulate in conjunctions with acidosis to some extend so its accumulation can be used as an indirect marker of the underlying processes, but with limited reliability.