Postural Orthostatic Tachycardia Syndrome, also known as POTS syndrome, is defined by orthostatic symptoms (symptoms on standing such as lightheadedness) and an accompanying dramatic increase in heart rate. The symptoms typically occur within 5 minutes of straight standing.
POTS and Brain Fog – What Does It Mean?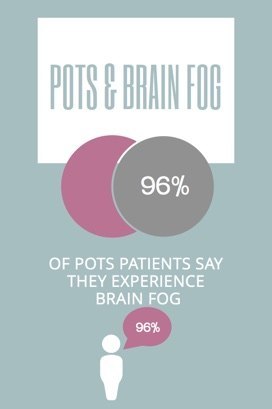 Symptoms described by POTS syndrome patients are wide ranging and include fatigue, weakness, light-headedness, sleep disturbance and others. Also prominent amongst these symptoms is impairment of cognitive function, aka brain fog. Cognitive function is a term that basically encompasses intellectual processing. This complaint is a common complaint amongst POTS syndrome patients and is often called "brain fog".
The term brain fog is, of course, imprecise, so one study set out to characterize the term brain fog further. They looked at 138 POTS syndrome patients who were aged between 14-29 years, 88% were female. Specifically designed questionnaires were used to gather information.
What Triggers Brain Fog?
Almost all of the participants reported experiencing brain fog. The most common descriptors of brain fog were difficulty focusing, thinking, and communicating. They also looked at what the triggers for brain fog were. They were fatigue (91%), lack of sleep (90%), prolonged standing (87%), dehydration (86%) and feeling faint (85%). It was also noted that the symptoms persisted after laying back down.
Treatments For Brain Fog
Over 75% of the patients had tried non-drug treatments of POTS with varying success. Lying down was found to be helpful in around 80%. Around 60% of patients found that avoiding heat, lying down, high fluid intake, and high salt diets for POTS were helpful. Around half of the participants noted that brain fog was made worse by exercise although regular aerobic exercise was listed as something that improved symptoms. 60% felt showering made it worse, and about 1/3rd found caffeinated beverages made it worse.
It was found that several different medical interventions had been tried for treating the brain fog ranging from IV saline infusions, salt tablets, B12 injections, and medicines used to stimulate blood pressure increase. IV saline was found to improve brain fog in around 80%, stimulant medicines in around 70% and salt tabs or b12 injections in around 50%. About 30% reported that some of the commonly used antidepressant medications made the brain fog worse.
Conclusions
Brain fog was found to be common in POTS syndrome and most commonly described as difficulty focusing, thinking, and communicating. Triggers included fatigue, lack of sleep, prolonged standing, dehydration and feeling faint. The most commonly helpful non-drug factors were avoiding heat, lying down, high fluid intake, and high salt diets. Of the drug treatments tried, IV saline was most effective. The study is more of an exploratory study and the design limitations of the study mean no strong conclusions can be drawn. The study is important though, because it gives us insights and ideas into POTS syndrome and its associated symptoms. Further studies are required to confirm these findings and find the most effective treatment strategies.