POTS (Postural Orthostatic Tachycardia Syndrome)  is associated with a wide array of symptoms; therefore, the diagnosis of POTS is often complicated. Much of a POTS diagnosis is centered around ruling out other causes of POTS symptoms. Below are some of the tests that may be performed as part of an attempt to identify and diagnose POTS.
Standing Test
The symptom of orthostasis is dizziness upon standing, and tachycardia is increase in heart rate. So orthostatic tachycardia is the intolerance to standing due to symptoms of dizziness with a fast heart rate.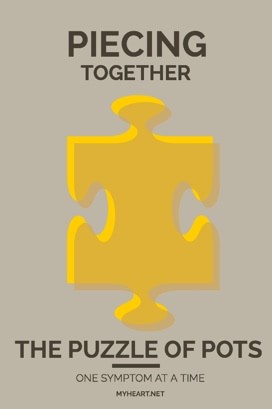 This test is exactly what it sounds like. The patient stands up straight, for up to half an hour. The heart rate and blood pressure is monitored to assess the body's response to standing.  Blood tests are taken at the same time through an IV inserted usually in to the arm.
POTS patients will typically have an increase in heart rate by at least 30 beats per minute. There is usually no significant drop in blood pressure. Some patients will have elevated blood levels of certain hormones or blood transmitters. This can help differentiate between some of the different forms of POTS.
Tilt Table Test
Tilt testing is done to see if being held upright provokes the symptoms of POTS syndrome, such as a fall in blood pressure, an increase in heart rate, dizziness, or even passing out.
Adults are more likely to undergo this test then children, as many feel that the results of the test will not alter treatment and also that in children POTS may not necessarily give a positive test result (Batra et al).
The patient is secured/strapped straight flat on a table by seatbelt like devices then subjected to various angles of tilting. So 90 degrees would be being held straight upright. The usual angle used is 60-80 degrees, so not quite straight up. The test may go on for up to an hour.
POTS patients will typically have an increase in heart rate of >30 beats per minute in response to the tilt testing. There may also be a wide variety of symptoms experienced. In POTS there is not usually a significant drop in blood pressure. Blood tests, heart monitoring and other tests are typically performed during the test. Tilt table testing is considered generally safe, and medical staff will monitor throughout the test.
Heart Rhythm Testing
Tests to assess the heart rhythm are normally performed as part of a POTS diagnosis. An EKG is performed to see if there is a normal resting heart rhythm. Heart monitoring devices, such as a holter monitor may be worn over a 24 hour period (sometimes longer) to assess for possible heart rhythm problems that my cause symptoms such as palpitations.
Heart Function Testing
An echocardiogram may be performed to assess the structure and function of the heart. This will help to ensure a normal pumping function of the heart and to rule out the presence of valvular and other disorders. During the POTS diagnosis, the doctor may find the patients has a smaller heart than usual. (But, the pumping function is typically normal.)
Blood Tests
Multiple blood tests are performed when diagnosing POTS. A large number of these are to rule out other causes of symptoms, or to rule out conditions that can be associated with POTS. These include thyroid testing, B12, Vitamin D, certain hormone and enzyme level testing, and testing for autoimmune conditions such as lupus. Urine tests may also be done.  Blood tests for levels of stimulatory nerve transmitters may be performed also to help differentiate between the different types of POTS.
QSART (Quantitative Sudomotor Axon Reflex Testing)
POTS falls under the umbrella of dysautonomias, and is a form of autonomic dysfunction. QSART is a kind of sweat test that tests the ability to increase sweat production appropriately and also to differentiate between different forms of sweating abnormality. The sweat glands respond to signals from the sympathetic nerves that lead to release of a transmitter called acetylcholine and leads to stimulation of sweat production. The QSART test can differentiate whether the abnormality is in the nerve signal or in the release of the transmitter.
Brain Imaging
Sometimes imaging is performed of the brain in order to rule out other underlying conditions associated with similar symptoms to POTS. That being said, there are no expected abnormalities in this imaging expected in a POTS patient. CT scan, especially in younger patients are often avoided due to the risk of radiation exposure. MRI scans are therefore often preferred when diagnosing POTS and have the advantage of higher resolution imaging for brain structure, and sometimes IV contrast is given to allow evaluation of the blood vessel supply also.
Summary of 7 Primary Ways to Test for POTS