There are over ½ a million POTS syndrome sufferers in the US alone, the majority young women. In POTS syndrome, being unable to stand for periods of time can result in severe functional impairment. Unfortunately, the exact underlying causes of POTS syndrome are poorly understood and treatment options are often limited. The good news is that ongoing research efforts are increasing our understanding of POTS syndrome. Exercise training is currently a key strategy. In this article, we will review the role of exercise in improving quality of life in POTS syndrome patients.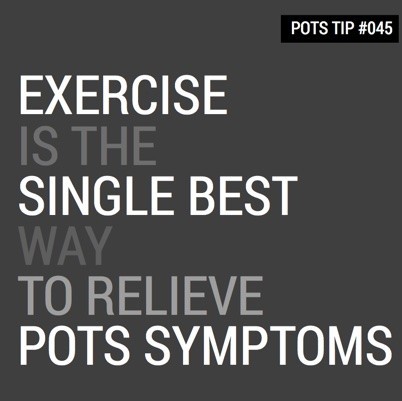 Physical Deconditioning
Evidence suggests that physical deconditioning is an important aspect of POTS syndrome and can worsen symptoms. POTS syndrome patients have low exercise tolerance in addition to the difficulty sustaining an upright position. Studies have shown that POTS syndrome patients have lower peak oxygen uptake during exercise as compared to healthy individuals that is a strong marker of physical deconditioning. Importantly, studies have also shown that endurance exercise training is an effective therapy in POTS. In many patients exercise training results in substantial improvement in symptoms and exercise performance.
POTS syndrome patients generally have higher heart rates for a given level of exercise compared to healthy individuals. This is thought to be due to POTS syndrome patients having smaller heart chamber sizes and lower heart muscle mass, related to the fact they do less activity because of the symptoms. Due to this, the heart has to pump more times to deliver the same amount of blood to the body and therefore the heart rate is higher.
Studies Have Shown Exercise Works
Although some therapies have been tried with limited success, there is no uniformly effective drug treatment for POTS syndrome. Exercise training has been proven to expand blood volume and plasma volume and increase cardiac muscle mass and heart size. These in turn have been associated with improvement in symptoms, and therefore exercise training is often suggested as a therapy for POTS syndrome.
One study looked at 3 months of exercise training, 20-30 minutes 3 times per week, starting with exercises performed in a sitting position and gradually progressing to higher intensity exercises and those performed in an upright position. It was found that VO2peak increased by 8% in POTS patients, a significant increase in physical conditioning. Heart size and blood volume were also found to increase. Around half the patients improved to such a degree that they no longer fulfilled the criteria for a diagnosis of POTS syndrome. Several studies have confirmed these effects. It is likely that for those patients with a more severe form of POTS, a longer duration of training would be required to see results. It is likely that patients would need to keep exercising in order to keep seeing the benefits. Although it may be tough initially given the symptoms, POTS syndrome patients should be encouraged to pursue an exercise program, start slowly and build up, and stick with it with the goal of significantly improving quality of life.