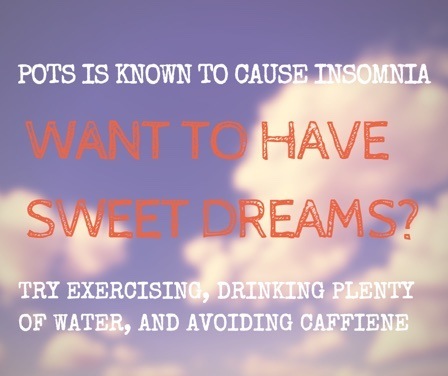 POTS syndrome patients have orthostatic intolerance. This basically means there is difficulty remaining in a standing position due to development of symptoms such as dizziness, almost passing out, and classically a dramatic increase in heart rate. Other complaints include poor exercise tolerance, weakness, mental fog and fatigue. Sleep disturbances have also been well characterized in P.O.T.S syndrome. Several studies have looked in to this, and we will briefly review them here.
POTS syndrome patients have described poor sleeping at night, waking up repeatedly at night, and sweating at night. As far back as 1921, it was shown in a study of soldiers, that those with POTS like symptoms of orthostatic intolerance also had sleep disturbances. One study showed that around 30% of POTS syndrome patients have sleep disturbances. Another study used questionnaire to investigate sleep patterns among POTS syndrome patients. POTS patients were found to have more sleep disturbances and higher levels of daytime sleepiness combined with fatigue as compared to healthy counterparts. In a study of POTS patients that used polysomnography, it was noted that there was diminished sleep quality, excessive daytime sleepiness, and decreased proportion of stage 2 sleep, which usually takes up around 50% of the sleeping time. These findings are similar to patients with insomnia. POTS syndrome patients were also noted to have increased variability of heart rate during different stages of sleep.
Taken together, these studies highlight that POTS syndrome patients are much more likely than others to experience sleep disturbances. In turn these sleep disturbances are associated with decrease in quality of life and form an important part of symptoms experiences by POTS syndrome patients.