Treating POTS can be tricky, even with a treatment plan that is created by a highly experienced physicians. In my experience, the most effective treatments for POTS syndrome are those that don't require prescription medication – often referred to as natural, homeopathic, or lifestyle treatments. In some circumstances, patients also gain relief by supplementing a lifestyle-driven POTS treatment strategy with various medications. In this article, you'll find an exhaustive list of treatment options available for POTS, all of which have been proven effective in peer-reviewed medical publications. Many of our readers have found it helpful to share this resource with their physician. If that helps you get on the right track for relieving POTS symptoms and regaining control over your life, feel free to use this resource in any way that's helpful. Also, be sure to checkout the infographic below that explains primary treatment methods in an easy-to-understand format.
Treatments for POTS That Don't Require Medication
These are things such as compression stockings that compress the legs and help prevent pooling of blood in the lower extremities. Effective stockings are likely to be full length to the waist, rather than those that are just knee high. The degree of compression that is most effective will be at least 30mmHg.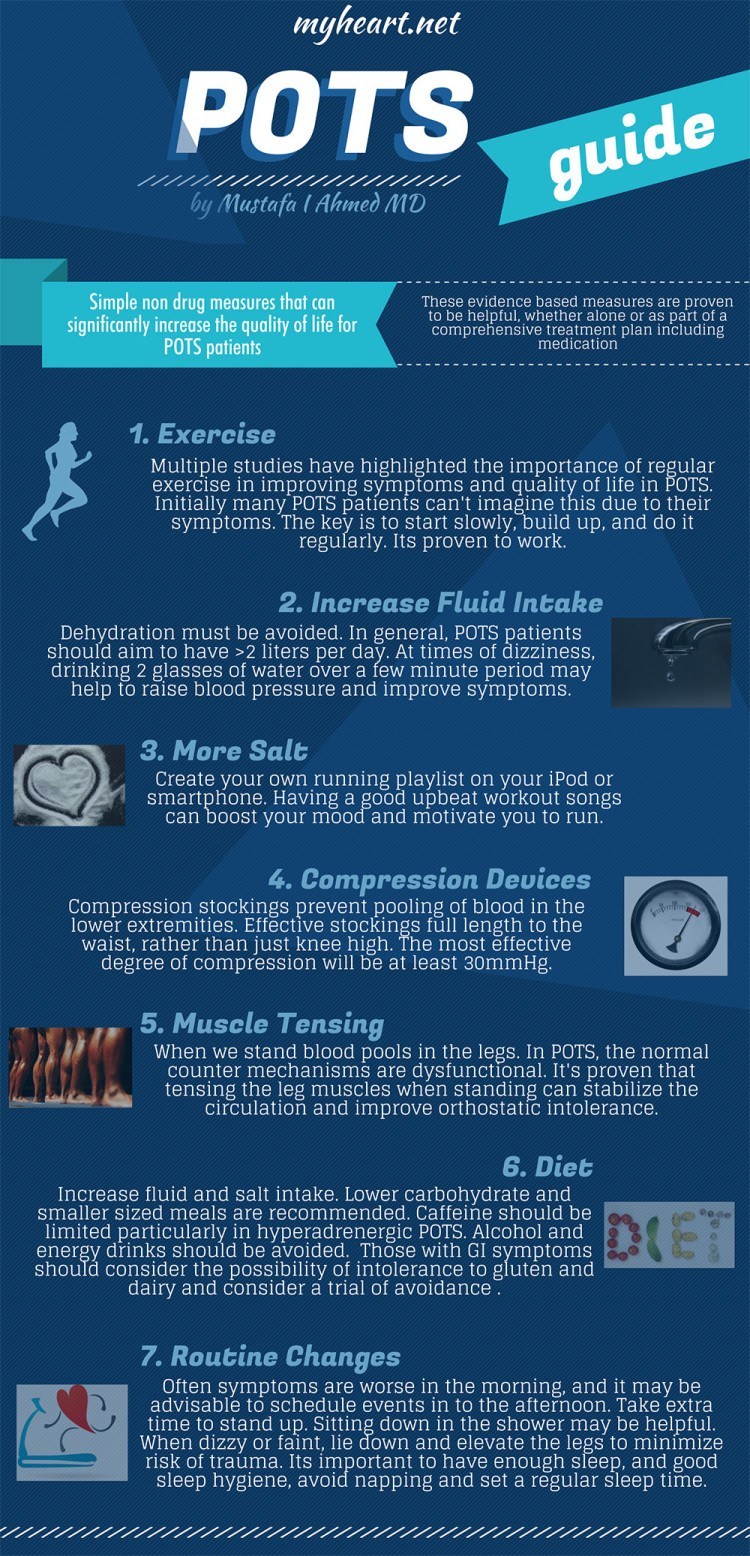 Diet
The importance of attention to diet in POTS Syndrome is covered in this separate linked article. But let's briefly let's discuss some of the important points here. Initially, the diet will center on increasing fluid and salt intake to increase circulating volume. Lower carbohydrate and smaller sized meals are also recommended to prevent pooling of blood in the stomach vessels. Some patients may be sensitive to caffeine and it should be limited, particularly if you suffer from hyperadrenergic POTS. Alcohol and energy drinks should be avoided, as they can worsen orthostasis and have been associated with triggering POTS episodes.  Finally, those with GI symptoms should consider gluten and dairy intolerance. By cutting these things out of your diet in a "trial", you'll eb able to see if they're having an impact.
Exercise
Exercise is generally recommended for all POTS patients and is a key part of any treatment strategy. Physical deconditioning is an important aspect of POTS and can worsen symptoms. This deconditioning has been highlighted by studies that show POTS patients have lower oxygen uptake during exercise compared to healthy individuals (Parsaik et al). POTS patients also have smaller heart chamber sizes and lower heart muscle mass, likely resulting from less activity (Fu et al). Importantly, studies have shown that endurance exercise training is an effective treatment for POTS and can result in substantial improvement in symptoms (Shibata et al). Exercise can increase cardiac and skeletal muscle mass, and improve overall cardiovascular fitness. This in turn will improve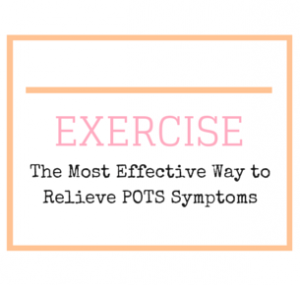 the body's ability to cope with standing, and other stressful situations in POTS.
Exercise may be challenging for two reasons. Firstly, patients feel too tired to exercise, andsecondly patients may feel fatigued and more symptomatic after exercising, often lasting days. Despite this, it has been proven that even if done slowly, and time taken to build up the exercise level, there will be significant improvement. The fact is that patients that exercise are likely to do better then those that don't. You can find a more comprehensive discussion of the importance of exercise for patients with POTS Syndrome here. 
Fluid Intake
Fluid intake has been shown to decrease the chances of feeling faint in response to standing and has been proven to be of benefit in patients with orthostasis (Shannon et al). Dehydration should be avoided and will almost certainly worsen symptoms of POTS Syndrome. In general, POTS patients should aim to have >2 liters per day. At times of dizziness, drinking 2 glasses of water over a few minute period may help to raise blood pressure and improve symptoms. I've written a complete article discussing the important role of hydration for POTS patients.
Muscle Tensing
When we stand, due to the effects of gravity blood tends to pool in the lower extremities. In POTS, the normal mechanisms that counter this are dysfunctional resulting in reduced return of blood to the heart and the upper body leading to dizziness. It has been proven, that in some patients, tensing of the leg muscles when standing can stabilize the circulation and improve orthostatic intolerance. (Van Lieshout et al).
Routine Changes
Symptoms of POTS may have significant impact on quality of life and things that are taken for granted by many now become a challenge. Simple routine changes may be helpful. Often POTS patients have worse symptoms in the morning, and it may be advisable to schedule events in to the afternoon. Things such as taking extra time to stand up, and also sitting down in the shower may be helpful. When symptoms are prominent such as dizziness or a faint feeling, it is wise to lie down and elevate the legs to minimize risk of trauma in the event of almost passing out or passing out.
Increasing Salt Intake
The role of salt in the treatment of POTS is covered in detail in the diet section. With the exception of kidney/heart failure patients, most doctors would recommend an effort to increase dietary salt for POTS patients, usually by around 2-4g/day.  If the doctor devising the treatment plan feels it is necessary, some POTS patients may benefit from up to 6-8g sodium/day. Initially, there should be an attempt to increase salt by means of dietary salt, although if necessary as per the treatment plan salt tablets may need to be used.
Prescription Drug Treatments for POTS
A number of medications have proven to be effective at treating POTS Syndrome, although the effectiveness of a given medication can be affected by the type of POTS Syndrome diagnosed. Below you'll find a list of the medications found to be effective for treating POTS symptoms, along with citations of relevant studies.
Benzodiazepines
Benzodiazepines are the class of drugs that include Klonopin and Xanax. They are anti anxiety agents. There is some evidence that in patients with some forms of neutrally mediated passing out spells that Klonopin may have some benefit (Kadri et al). The evidence is limited though and certainly not conclusive. Benzodiazepines should be used with extreme caution and if possible avoided, as they are highly addictive and may result in dependence. They are certainly not first line treatment for POTS patients.
Beta Blockers
Beta blockers, mainly propranolol, are used fairly frequently in POTS. Basically beta-blockers are a drug that primarily reduces heart rate. It has been shown that propranolol may be helpful in reducing heart rate and improving symptoms in POTS patients. This benefit was only seen with low dose propranolol (Raj et al). It is felt that the beta blockers may prevent the heart rate getting to high in exercise and this may improve symptoms. One study showed that low dose propranolol was associated with increased exercise capacity (Arnold et al).
Clonidine
Clonidine is a drug that controls some of the nerve responses from the brain. It is usually used to control high blood pressure but has been found useful in many conditions and may have some use in certain patients with POTS. It can be particularly useful in those with hyperadrenergic POTS (Raj et al). In some patients clonidine may be effective to control heart rate and blood pressure. Unfortunately clonidine can cause fatigue and mental clouding in some patients.
Desmopressin
One of the treatments of POTS is increasing blood volume that may lead to reduced symptoms such as dizziness and allow the body to adapt to standing better.  Desmopressin basically stops the kidneys from releasing water in to the urine and keeps it in the body. Research shows that at least in the short term desmopressin may control heart rate and improve symptoms in some POTS patients (Coffin et al). The use of desmopressin is associated with side effects such as swelling and headaches. Also there may be derangements of blood sodium levels and so a prescribing physician should carefully monitor its use.
Erythropoietin
Erythropoietin is a hormone produced by the kidney that controls the production of red blood cells. There has been research showing that red blood cell volume may be low in POTS. Some studies have demonstrated that in patients that do not benefit from more common treatments, erythropoietin may result in improvement in POTS symptoms, particularly orthostatic intolerance (Kanjwal et al). In those taking erythropoietin, usually as an injection, regular blood tests are required to ensure the level of blood cells doesn't get too high.
Fludrocortisone (Florinef)
Fludrocortisone is a synthetic type of steroid that can cause the body to retain salt and therefore water. Basically it can be useful in POTS because it increases circulating volume and can therefore alleviate some of the symptoms of POTS and improve the body's response to standing. Studies (Freitas et al) and experience from treatment centers (Grubb et al), suggest that fludrocortisone may be particularly useful in POTS patients suspected of having a low blood volume, if used as part of a supervised treatment plan.
Ivabradine
Ivabradine is a drug that acts on the heart to slow down heart rate. In contrast to other drugs that do this, Ivabradine slows down heart rate without affecting blood pressure. A few studies suggest that Ivabradine may be useful in POTS to improve orthostatic intolerance and prevent the heart rate rising too high (Mcdonald et al). As with many POTS drugs, good controlled trials are required before it's use can be recommended widely.
Midodrine
One of the causes of POTS is pooling of blood in the lower body partly because the blood vessels in the legs relax too much. Midodrine causes the vessels to constrict thus preventing pooling and also leading to an increase in blood pressure. (Hoeldtke et al). Unfortunately its use is often limited by side effects that include tingling and headaches.
Octreotide
Octreotide is a drug that can cause tightening of the blood vessels and therefore improve the tolerance to usual POTS stressors such as standing up. It may be particularly useful in those with gastrointestinal symptoms such as nausea and delayed gastric emptying. Octreotide has been shown to reduce heart rate in POTS patients also (Hoeldtke et al).
Pyridostigmine (Mestinon)
Pyridostigmine is a drug that prevents breakdown of a nerve transmitter known as acetylcholine. It is usually used in an autoimmune condition called myasthenia gravis condition in which antibodies cause weakness. In some forms of POTS, Pyridostigmine has been demonstrated to prevent increase in heart rate and improve symptoms (Raj et al). Unfortunately the use of Pyridostigmine in POTS may be limited by side effects such as constipation.
Selective Serotonin Uptake Inhibitors (SSRI's)
SSRI's are a class of drug typically used as antidepressants. The production of serotonin is thought to be faulty in some patients with fainting spells and there has been some experience to suggest it may be of use in some with neuro-circulatory passing out such as that seen in postural orthostatic tachycardia syndrome (Goldstein et al).