What is the Mitral Annulus?
At myheart.net we've helped millions of people through our articles and answers. Now our authors are keeping readers up to date with cutting edge heart disease information through twitter. Follow Dr Ahmed on Twitter @MustafaAhmedMD
The mitral annulus is a ring like structure that separates the top and bottom chambers of the left side of the heart. The left side of the heart is the main pumping side. The upper chamber is the left atrium that collects blood returning from the lungs. The lower chamber of the left side of the heart is called the left ventricle, and is the main pumping chamber that pumps blood to the body. The mitral annulus sits in between the top and bottom chamber and houses the mitral valve. It can be thought of as a support ring for the mitral valve. The mitral valve is the valve that stops blood flowing backward from the left ventricle to the left atrium, and therefore allows blood to go forward in to the body where it is needed.

What is Mitral Annular Calcification?
Mitral annular calcification is a chronic process in which there is deposition of calcium in the mitral valve annulus. The mitral annulus is typically flexible. In mitral annular calcification it becomes less flexible and thicker. The posterior annulus is most commonly affected. In the majority of people the amount of calcification is mild and therefore usually of no significance. Calcification of the mitral annulus is increased in situations where there is increased stress on the annulus and valve.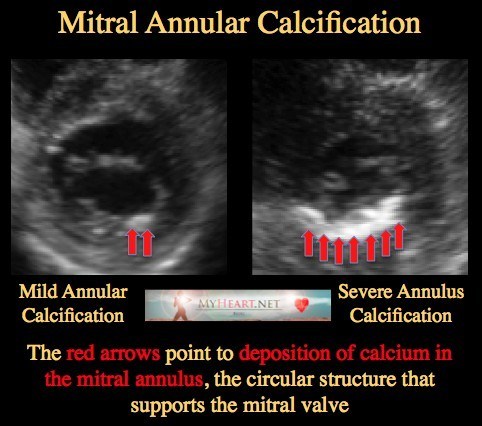 Diagnosis
Mitral Annular Calcification may be associated with a murmur that is picked up on physical examination although often there will be no murmur. The diagnosis of mitral annular calcification is most commonly by echocardiography. As in the pictures above, there is increased calcium deposition seen in the mitral annulus. Mitral annular calcification when severe can be seen on chest x-ray. It can also be picked up on CT scan and MRI scan.
Commonality
Mitral annular calcification is more common in women. 9% of woman and 3% of men over the age of 60 are found to have it on echocardiography. It is also more common in those with mitral valve prolapse. Mitral annular calcification is very common in those with chronic kidney disease, and is found in 40% of those undergoing echocardiography.
Risk Factors
Factors that increase stress on the mitral valve and its surrounding structures increase the chance of mitral valve calcification. The following conditions are associated with development of mitral annular calcification.
Female sex
Older Age
Hypertrophic Cardiomyopathy
Chronic Kidney Disease
Atherosclerosis
Complications
Several studies have looked at the association of mitral annular calcification and the development of cardiac and other events. There is increased risk of heart attacks, stroke and death from cardiovascular causes. There is also an increased risk of development of atrial fibrillation with RVR, an irregular heart rhythm. The risk is probably explained by the fact that patients with mitral annular calcification have risk factors for cardiovascular disease. The presence of the calcium itself is unlikely dangerous.
The presence of mitral annular calcium makes it harder for surgeons to repair the mitral valve, as surgery is technically more challenging. The calcium in the annulus can make the flexible valve more rigid and predispose to a leaky valve, however that is usually not significant. Mitral annular calcification is rarely associated with obstruction to blood flow and therefore typically will not have symptoms.
Caseous Calcification of the Mitral Annulus
Caseous calcification of the mitral annulus is a rare type of mitral annular calcification where there is extensive calcification and infiltration of the annulus accompanied by a liquid center, a process known as liquefactive necrosis. As can be seen in the picture, this has a remarkable appearance. It is usually benign, however it is important it is recognized, as it can be mistaken for tumor or other more dangerous complications that can lead to unnecessary interventions such as operations. Sometimes it resolves spontaneously.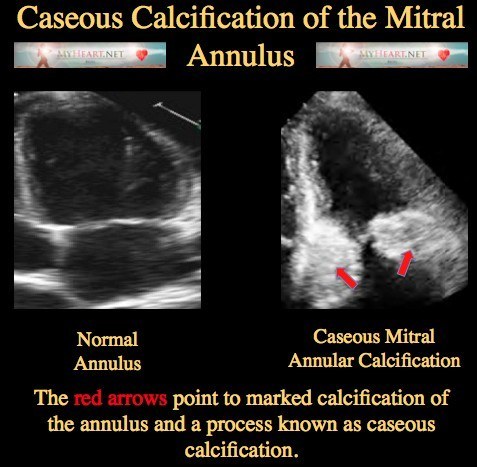 Treatment of Mitral Annular Calcification
Mitral annular calcification is usually of no clinical significance and no specific treatment such as MitraClip is required. Those with mitral annular calcification are at increased risk of cardiac events, although this is still relatively small, likely due to the presence of traditional cardiac risk factors. Therefore it is reasonable to advise those with mitral annular calcification to pay attention to blood pressure, cholesterol, lifestyle, smoking, diabetes and other common risk factors. This will serve to reduce overall cardiac risk.